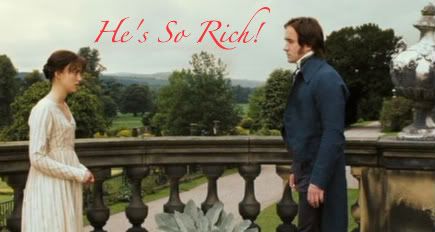 It really has been quite shockingly long since I last posted. I've sat down a few times to begin on a subject but I didn't get very far. I have been watching several Jane Austen adaptations recently and can't wait to post on those.
But meanwhile I have some exciting news about a girl I haven't seen in years. Miranda and I were born just a few days apart at the same hospital and because we both had jaundice our mothers met when they had to take us back to the hospital for treatments. They were both new mothers, Christians and military wives and quickly became good friends. Miranda and I were early playfellows but because of military moves we all soon lost touch except for a few letters over the past 19-20 years. My mother found Miss Margaret on that marvelous phenomenon Facebook and today my mom showed me an article about Miranda's
upcoming Pride & Prejudice themed wedding
!
"Miranda-Lynn Ward and Tom Gartin's romance is one for the storybooks. "Pride and Prejudice" to be exact. ...Ward and Gartin have often compared their relationship to Jane Austen's "Pride and Prejudice" and laugh at the similarities between the characters in the novel and themselves."





"As the wedding date nears, Ward and Gartin are becoming increasingly excited and anxious to begin their new life together and share their first kiss. "
Not only is Miranda's wedding themed on one of my favorite authoresses but their story and testimony are amazing and so similar to my own beliefs. I confess to envying her a bit but wish her all the joy imaginable and continue to dream about my own period themed wedding! :)
Tomorrow is my day off from work and I can't wait to get together with my friend Karis in the morning. We plan to have a picnic breakfast by the coast, visit a music box museum, tour a historic home -
Castle Tucker
, do some shopping and have a gourmet lunch. In the evening my family is having a BBQ with a family of friends who we haven't seen in about 13 years.
This summer hasn't gone as I planned but it's been infinitely more interesting! The Lord is so good! :)
Mood:


Nostalgic