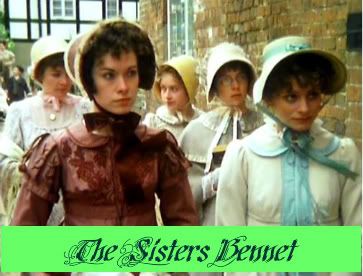 This has been long in the planning and I'm finally getting around to posting again. These last few weeks have been a series of trials and blessings and I got my first day off in almost three weeks, and happily did nothing but rest all day. So here we are with a post and I'm a bit frustrated that this is actually my first posting in response to films I'm watching for the
Period Drama Challenge
.
This film fits into the
Bonnets & Hessians
(set during the Regency) category.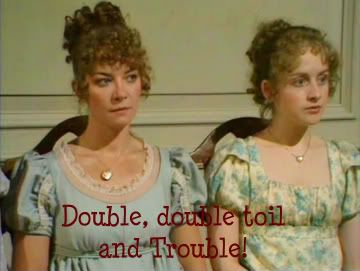 As you know, if you've read much of my blog, I adore Jane Austen! Viewing this adaptation of Pride & Prejudice brought back an air of nostalgia to me as I remember being 10 or 11 years old and watching this film in two parts with my mother late at night after everyone else was asleep. I enjoy the opening title illustrations and the theme song, The music through out is pretty and usually suits the mood well.
Though the adaptation is not without it's faults it does contain my favorite Mr. Collins (who looks rather like a potato on stilts), an extra sweet Jane Bennet, a cute bumbling Mr. Bingley, a perfectly cast Mary Bennet, a friendly Charlotte Lucas, and an odious prickly Caroline Bingley. The script though not an Andrew Davies, is well written and follows the book very well. The whole thing makes me think of a BBC radio play - it's like watching a radio play. Done mostly on sound stages it has little scenery to admire and the dancing is quite noticibly staged. But nonetheless it is worth a see for Austen fans and anyone who enjoys a clean period film.
Elizabeth and Darcy are so-so, well cast a times but superficial at others. It is worth waiting to the end and seeing David Ritoul as Darcy smirk or almost smile when Lizzie accepts his proposal.
So that's about it for me. I have been watching quite a bit of period films lately and am excited to see The Young Visiters and Our Mutual Friend (which I recently purchased) again soon.
Hope you are doing well and having a lovely week. The air is getting a bit crisp where I am and I'm excited that Autumn is coming upon us fast! God bless! :)
Mood:

Restless