My dear friend Miss Amy Dashwood is hosting a delightful Celebrate Musicals Week over at Yet Another Period Drama Blog. As I am a huge musical theatre fan I couldn't resist taking my share of the conversation and answering the tag questions she's put together. I might do more posts about musicals before the event is over but not sure right now.
1. What musical did you pick to "spotlight" this week and why?
I chose Oklahoma! because it's always been a favorite of mine and I recently got to see a small theater company preform it in a small production (one of my former co-workers was in the cast).
Laurey & Curly from the production I went to.

2. How did you discover the musical you picked (hereinafter referred to as "your musical")?
I probably watched it with my mama who is also a huge fan of musicals. She introduced me to most all of the musicals I've seen to date. But I know my dad had sung songs from it before that, he often sings songs when phrases from them come up in conversation.
1999 stage version
3. If you had to pick three favorite songs from your musical, which ones would they be?
There's so many lovely tunes in Oklahoma!, I was reminded of that when hearing the
Overture
played by the orchestra at the production I went to.
'Oh What A Beautiful Morning'
- it's just beautiful, fun to sing and how can you beat a singing cowboy?
'The Surrey With The Fringe On Top'
- such a fun song and really lovely music!
'All Er Nothing'
- this final song between Will and Ado Annie might be my favorite song in Oklahoma! because of the comedic effect and it is sweet.
There's others I've really started to appreciate more like
'Many A New Day'
,
'People Will Say We're In Love'
and
'Out Of My Dreams'
. Also
'Kansas City'
,
'The Farmer and The Cowman'
and
'Oklahoma!'
are such fun songs! Even
'Pore Jud Is Daid'
although sad has lovely harmonies and the sound of Curly and Jud singing together at the end of the song is very powerful.
Will Parker & Ado Annie - All Er Nothin'
4. What's your least favorite song from your musical?
It should probably be
'I Caint Say No'
because it's rather fickle but my least favorite would be
'The Dream Ballet'
because it's just so long and boring, the whole scene is quite unnecessary.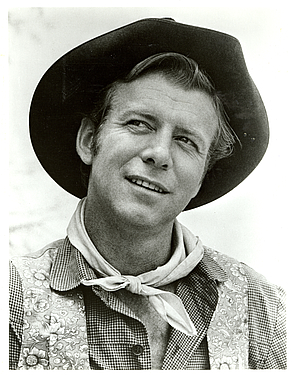 Gene Nelson as Will Parker (1955)
5. Who are your favorite characters (choose up to three)?
Will Parker
is probably my favorite character in Oklahoma! He does have his vices but overall he's a very nice chap indeed and Ado Annie really doesn't deserve him.
Curly
would be my next favorite character, he's a bit headstrong and a tease at times but he's quite lovely (especially when played by Hugh Jackman and let's not forget the charming Gordon McCrae!).
My third favorite character might be
Aunt Eller
because I almost like her better than Laurey who always seemed quite fickle and stubborn to me. Aunt Eller also has some fun lines!
Hugh Jackman as Curly
6. Which versions of your musical have you seen/listened to, and which is your favorite?
I have seen the 1955 film version starring Gordon MacRae and Shirley Jones, also the 1999 filmed stage version starring Hugh Jackman and Josefina Gabrielle. And as stated above in August I saw a small theater company in Cincinnati do a performance of it and that was extra fun seeing it live!
It's hard to choose a favorite version because I like each film version for different reasons. I might choose the Hugh Jackman version though I haven't seen it in a while.
Hugh Jackman in Les Miserables 2012
7. Is this your favorite musical of all time? If not, what is?
No it's not my favorite musical. I love so many musicals that it's hard to choose just one. I used to say Seven Brides For Seven Brothers or Cinderella but now I might just say Les Miserables. ;)
8. Which cast album/musical soundtrack in your collection do you listen to the most?
Probably Les Miserables but only because I was new to it in 2012 and became rather obsessed (so easy to do!). Others I listen to a lot would be Phantom Of The Opera (movie soundtrack), Into The Woods (original Broadway cast), West Side Story (50th anniversary recording) and selections from Sense and Sensibility: The Musical.
9. What is your favorite costume from your musical?
Not quite sure, but Shirley Jones wears some lovely dresses in the 1955 film. Her checked gingham dress for example is very lovely.
"Pore Jud is daid, a candle lights his haid..."
10. If you could change anything about your musical, what would you change?
While I'd definitely love to give Jud a different ending, a happier one and more redeeming qualities, I'd say the one thing I'd really like to change would be Curly's actions and words toward Jud. We all know Jud is a total creep but if you really listen to the words of
'Pore Jud Is Daid'
it actually seems quite out of character for Curly to actually be suggesting that Jud kill himself because everyone would love him more if he was dead! Jud's part of the story is creepy and sad if you think about it too long, the townsfolks really do help to cover up any guilt Curly might have had in Jud's death.
Cinderella (1965)
11. Which role(s) would you most like to play in any musical, if you had the opportunity to do so on stage?
Cinderella in Rodgers & Hammerstein's Cinderella would be great fun, I love all the songs! Or one of her stepsisters, maybe the one who keeps batting her eyes, haha! I can't really see myself in a musical though.
Emmet Cahill
12. If you could choose one performer to play any part in your musical, who would you choose and which part would you have them play?
Hmm...Maybe my favorite singer Emmet Cahill as Marius in Les Miserables, but just to hear him sing
'Empty Chairs At Empty Tables'
(I've also for some reasons been wanting to hear Josh Groban sing that).
13. Do you consider yourself a musical theatre fan in general or do you just like a few musicals?
I didn't really consider myself a "musical theatre fan" until fairly recently when I realized how many musicals I love and how much I've always enjoyed the genre in general. It might have something to do with the fact that up until a couple years ago I'd only seen movie adaptations of musicals and recently I've seen more filmed stage versions and realizing more how much I love theatre productions in general.
14. Are you tired of the word "musical" yet?
Sort of but not really. The word makes me think of the phrase "Are you musical?"
15. Turn your music playing device on shuffle (or utilize Pandora if you don't have one) and tell us the names of the first three show tunes that come up-- no cheating! How do these rank on your favorites/most-listened-to list?
'All Er Nothin'
from Oklahoma! - yes this did really come up! Maybe my favorite song in Oklahoma!
'One Hand, One Heart'
from West Side Story - I couldn't tell you what it's about honestly, not really a favorite.
'I Could Have Danced All Night'
from My Fair Lady - A perfectly lovely song though my favorite from My Fair Lady is
'On The Street Where You Live'
.
Thanks for this fun tag Amy!