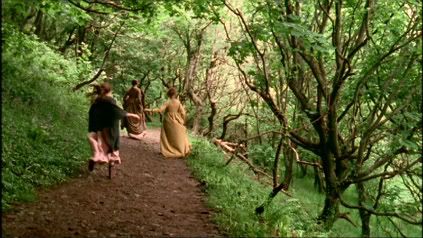 Just a quick post to wish you all a very happy day and to let you all know that I haven't fallen off the face of the earth...yet. ;)
I've been very busy with work and taking a class so I can be certified to pass out medications at work. It's an interesting class but there is so much to learn and remember!
Anyway...there's new pictures of the newest Emma adaptation available. Some have been out for a while while others are brand new.
There's photos of
Emma & Miss Taylor
looking very smart in their bonnets and spencers.
Our first look at
Jonny Lee Miller as Mr. Knightley
...or is that just an older Edmund Bertram?
And it certainly looks like
Ramola Garai
is putting her all into this film and enjoying it very much!
In other news I purchased my own copies of the newest Sense & Sensibility, Little Dorrit miniseries and Miramax Emma movie soundtrack all of which I love.
I hardly ever do this but I decided to watch S&S with the commentary on and I really enjoyed all of the cast and crew's inputs and the things you never see. It really takes quite a bit of work to make a film!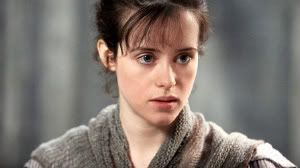 And the other night my family and I watched the last two episodes of Little Dorrit and boy didn't I just bawl all over the place! If you've never seen it you really must. My absolute favorite scene is the one where John Chivery cries. He really was such a wonderful touch to the story line.
I've also rewatched Miss Austen Regrets which is on the S&S DVD as a special feature! I forgot how much I enjoyed it the first time, it really is so much like Jane Austen.
Anyway, I have to go to work now. My schedule is so busy lately! I'm also trying to figure out how to celebrate my mommy this weekend.
God Bless, Laurie :)
Mood:

Rushed