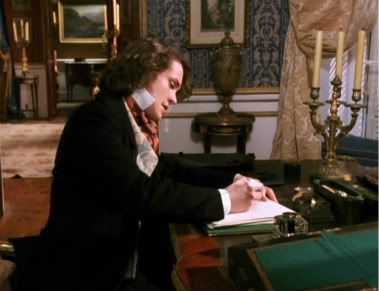 David begins the tale of his life.
I just happened onto this delightful piece of period drama starring Hugh Dancy in the title role on
YouTube
the other day and had a wonderful time enjoying all 180 minutes of this film.
What I plan on doing in this review instead of telling the story I want to share some lovely screencaps and tell the differences between this adaptation and the
BBC adaptation 1999
, also my opinions on it. I also want to say that I've never read the book and know little about how this story relates to Dickens' personal life (though I've heard it's a bio of sorts).
Sally Field as Aunt Betsey Trotwood.
I was a little perplexed by the first scene which shows David Copperfield at some European villa upsetting a tea table on a gentleman and his companion. But it moves quickly to show David start to write the account of his life. The first character we meet with is his aunt Betsey Trotwood unsuccessfully portrayed by American actress Sally Field. She can in no way touch Dame Maggie Smith's stunning portrayal of the same character. Although dressed the part of an old spinster she does not succeed at being strict, gentle or comical and fails all together at the accent. David's mother is indeed little more than a child with round face and large eyes and does not present a remarkable appearance as Emila Fox did the BBC adaptation.
David at the sickbed of Mr. Barkis.
The two characters I do simply adore from David's childhood are Mr. Barkis and Peggoty, his "C.P. Barkis" wonderfully portrayed by Judy Cornwall. "
Barkis is willing...
" is probably my favorite quote from the entire film, so sweet and funny. The Barkis' love and devotion is one that did last a lifetime.
The actor filling the role of Young David is not a well known one (not like Daniel Radcliffe was well known in 1999) which heightens his charm. His scenes are not many but they are well done.
Evil Mr. Murstone so handsomely played by Anthony Andrews.
The wonderfully talented Anthony Andrews (who I adore as The Scarlet Pimpernel) is the evil Mr. Murdstone, David's stepfather. He is quite charming at first and you can see why young Mrs. Copperfield lets him into her life. The discipline scenes between him and David aren't quite as dark or life threatening as in the BBC adaptation. Also Mr. Murdstone reappears later in the movie as does his sister as Dora Spenlow's companion who tries to keep away David's attentions. Miss Murdstone is played by Eileen Atkins who is not very convincing in the role and I would have preferred to have seen her as David's aunt.
The jolly but unfourtunate Mr. & Mrs. Micawber.
American actor Michael Richards is Mr. Wilkins Micawber and Mrs. Micawber is Lesley Manville who can be seen in Cranford and North & South. I found their acting fine but not quite as comical or well done of that by Bob Hoskins and Imelda Staunton just the year before. Other minor characters are fairly well acted, I enjoyed Mr. Dick and David's teacher Mr. Creakle isn't as frightening as Ian McKellen's performance was.
Steerforth, Emily and David at Yarmouth.
All the scenes done at Yarmouth are well done and the actors excellent. The house boat they live is lovely as is the seaside. They do seem to leave out the fact of Ham's death. Steerforth's death is just told about and not much is seen of Emily and Mr. Peggotty after that. Her running away does make a bit more sense in this adaptation as does Barkis' death.
The horrible Mr. Uriah Heep.
Having just seen Hans Christian Andersen: My Life As A Fairytale and having heard the rumor that Charles Dickens wrote his character Uriah Heep to be like Mr. Andersen I was all excited to see who would be the it man. Frank MacCusker was not known to me before this adaptation but his portrayal of Uriah Heep is excellent, perfectly slimy and eel like. And he looks rather like the photos of Mr. Andersen. Just wonderful!
At a dinner party with friend Agnes.
Also having just seen My Life as a Fairytale and thinking of Hans Christian Andersen I was very surprised when I recognized the actress (Emily Hamilton) who lights up the screen as Anges Wickfield the "sister" who loves David tenderly. I enjoyed how her character was written to know what David was thinking of before he says it. She hits upon his love for Dora before he tells Agnes of it. Lovely!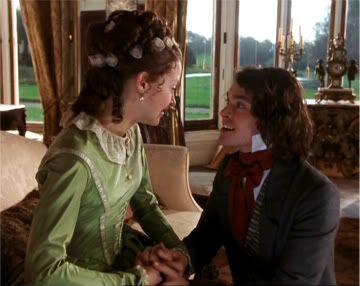 Proposing to Miss Spenlow.
Dora Spenlow is portrayed by actress Julie Cox who I recognized from a few Agatha Christie adaptations and was lovely. I forgot how much I enjoyed the story of Dora, David and Agnes as they transition from one kind of love to another. There is a very lovely final proposal scene set in a garden with a tree swing. It's such a sweet tale.
Dora wasn't as silly as she seemed, she did know a thing or two!
Overall I can't really decide which adaptation of David Copperfield I like best but I have decided that it is one of my favorite Dickens tales. I enjoy that this adaptation also brings closure for the wrongs done by the Murdstones to David in his childhood and it is only after he has closure on his past that he can go ahead with his future. I only wish this film was available on DVD in the US, I could own both adaptations and watch them back to back! Highly recommend film! :)