I've been wanting to watch this film since this past spring when I missed watching it when it aired on
Masterpiece Theatre
. An adaptation of Dicken's tale by the same name the story was first serialized in his weekly serial
Master Humphrey's Clock
.
Nell Trent and her Grandfather fleeing into the country.
The story centers around 14-year-old Nell Trent an orphan who lives with her grandfather the owner of The Old Curiosity Shop. Nell's grandfather has a very serious gambling addiction and is heavily in debt to the evil Mr. Quilp. When Nell's grandfather signs over possession of his shop to Mr. Quilp Nell knows that they will never be free until they leave. In the early morning Nell and her grandfather flee to the country and try to make their fortune as "beggars". Though Nell finds work her old grandfather foolishly gambles away their few savings. Persued by Mr. Quilp and also by a mysterious stranger the granddaughter and grandfather continue on the run until there is nowhere left to turn.
Little Nell follows Mr. Quilp through a debtors prison.
When it was first serialized
The Old Curiosity Shop
was widely followed and it was said when the final installment was released Dickens fans were reported to storm the piers of New York City, shouting to arriving sailors for news of the fate of sick Little Nell's. The story was printed in novel form in 1841. As a Dickens' novel it has not continued in popularity. I found the story from the film not quite as complex as Dickens' other novels and there are several inconsistencies or loose ends left over from the newspaper printing.
Zoë Wanamaker as the eccentric wax museum owner Mrs. Jarley.
There are several delightful characters, the novel itself may be considered an Old Curiosity Shop stocked with interesting people. Like a secondhand store though,
I find
that most of what's inside is not worth much but here and there we do find a gem, or a character who only needs a little polishing to be good as new.
Nell Trent with her best friend Kit Nubbles in The Old Curiosity Shop.
The gem of the Shop is Little Nell herself who bravely does what she can to help her grandfather and tries to always be acting rightly. She stays bright and shinning throughout the film. Alongside her is her good friend Kit who does his best to help and protect Nell from Mr. Quilp's evil doings and her grandfather's often careless and self centered ways.
Lovely Sophie Vavasseur as Little Nell.
There is a fantastic cast of actors in this film some whom are easily recognized such as
Derek Jacobi
,
Toby Jones
,
Zoë Wanamaker
,
Gina McKee
,
Anna Madeley
and
Adam Godley
. Young actress
Sophie Vavasseur
though a bit older than 14 years is brilliant as Little Nell. Miss Vavassuer is not a stranger to period film having already appeared as Jane Lefroy in
Becoming Jane
, Anne Thorpe in
Northanger Abbey
, and her first film role was playing Pierce Brosnon's daughter in an interesting looking film called
Evelyn
.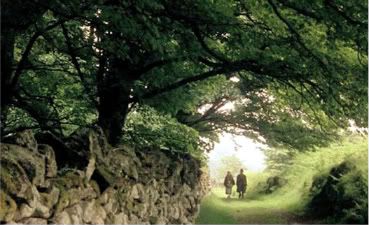 Nell and Grandfather walk down a country lane.
Though by no means as brilliant as
Little Dorrit
,
Our Mutual Friend
or
David Copperfield
, this 90 mintue film is charming and I would recommend it to all fans of Dickens' adaptations or anyone who enjoys a more serious period drama. I will send this warning, watch it with a box of tissues because as others of his novels the characters do not all end happily. But all in all a good view!