Miss Elizabeth Bennet's
Thursday post
for
Period Drama Week
is all about
which characters from period dramas would be friends
. This subject was quite interesting and immediately set my head swimming with ideas and stories about my favorite characters!
I tried to limit myself but it was a bit difficult! :)
~ Eleanor Tilney & Anne Elliot ~
I think these sweet elegant ladies would make the dearest of friends if they were ever to cross paths. The chance of their meeting is actually rather high in many ways except that Eleanor would have been almost 20 years older than Anne Elliot who was born in 1787 (about the name time Eleanor was meeting Catherine in Bath).
How could they meet?
Anne's mother was the daughter of a wealth gentleman in the county of Gloucester and Northanger Abbey was in the country of Gloucester; so if they were in the same part of Gloucester they will definitely have heard of each other's families. If their mothers had not met then it's quite likely that Anne and Eleanor might have meet when they'd both been to school in Bath. The sympathies between them would naturally be warm because they both lost their mothers at an early age, they both enjoy reading and their sweet natures are so similar! I'd just love to be friends with them too!
~ Mrs. Allen & Mrs. Forester ~
These two ladies are quite alike in my opinion, they both are talkers and I think they'd have a good time chatting, Mrs. Forester her cow and Mrs. Allen about her gowns! Both have rather sweet natures underneath their silly comments.
Okay, I had too much fun imagining this match up:
Amy Dorrit & Fanny Price
I find that these two heroines are quite alike in many ways! Both young ladies have very sweet temperaments. They both sacrifice their own happiness in order to serve their family member's whims. They are both kind, friendly, always act rightly and watch on while the men they love pursue other ladies less worthy than themselves. I adore both of these young ladies!
There are actually quite a few characters in Little Dorrit and Mansfield Park that are similar in personality and situation. Take a look:
Arthur Clenham & Edmund Bertram
Similar quizzical and earnest natures, with a zest for information. Both are brotherly and kind, helping people as often as they can. Both blind to the heroine's true love for them.
Mr. Clenham & Mrs. Norris
I'm not sure if they would actually be friends because they are both so alike! Both are quite demanding, sneaky about getting gain/presents for themselves, complain quite a lot and are often unjust in their treatment of the heroines.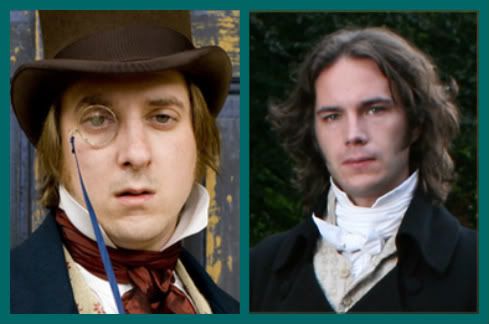 Tip Dorrit & Tom Bertram
Both have a fondness for gambling, horse racing and lively company. Both also have a habbit of getting themselves int debt and bad situations!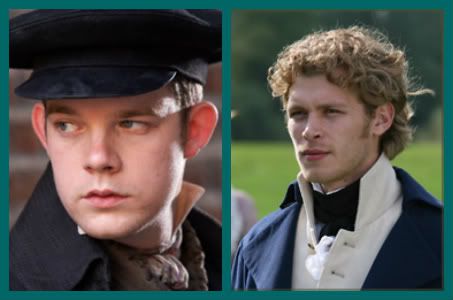 John Chivery & William Price
I think John would benefit from William's high spirits and cheery nature. Both have strong affections for the heroine (William's brotherly), are kind and brave souls.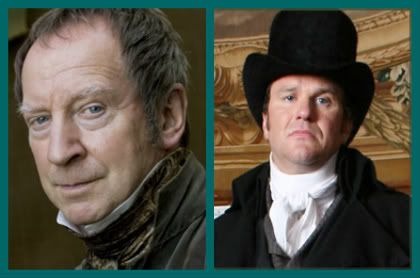 Mr. Meagles & Sir Thomas Bertram
Both have similar personalities and judge wrong conclusions about their children. But they are respectable gentlemen who do have kind hearts underneath. I do like Sir Thomas a bit better.
Mrs. Meagles & Lady Bertram
Both ladies have quite a life of leisure with nothing to do but have their whims attended to by others. But they both love their children deeply.
Pet Meagles & Maria Bertram
Both can be quite selfish and have "younger sisters" who they occasionally run over to get what they want. Pet does have a sweet heart but Maria's hopes are dashed by Henry Crawford.
Tattycoram & Julia Bertram
Both are overlooked by those closest to them, have a bit of a selfish and pouty streak and run away from home because they want freedom.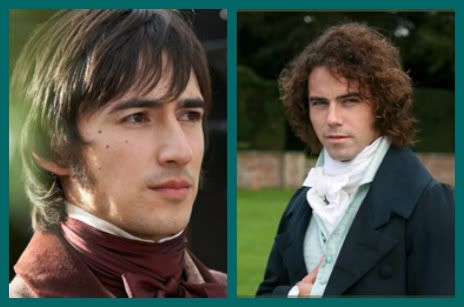 Henry Gowan & Henry Crawford
These gentlemen have more than their first names in common. They are beaus who charm their way into the ladies hearts with a selfish streak to each!
Fanny Dorrit & Mary Crawford
Both can actually be quite nice when they let go of their need to get their own way. Each lady is rather cool and calculating and making cutting remarks about the heroines.
Edmund Sparkler & Mrs. Rushworth
Both marry ladies who are above them in sense and can be quite mean to them. Both have meddling mother who care little for anything but gossip, being at the height of fashion and telling their sons what to do.
Anyway, these are my little fancies! I had more in mind but I've taken up too much room already.
Which of these characters would you like to be friends with?
This might be my last post that joins in the Period Drama Week because I'll be out of town this weekend. Much thanks to Miss Elizabeth for hosting this event. Don't forget to visit Elegance of Fashion to join in!
Very Truly Your's