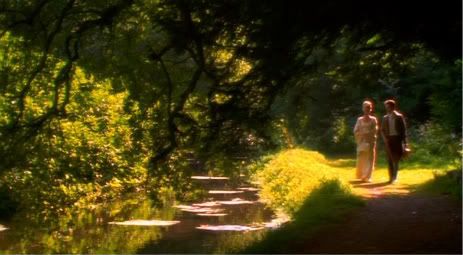 So I really wanted to post today but was having a hard time thinking what to post about. Then I wandered over to my
favorite Jane Austen blog
and found out there's a
new article
containing three cast members for the new Emma.
Say hello to: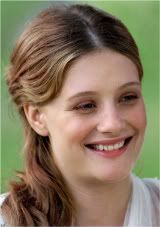 Ramola Garai as Emma Woodhouse
Other period films:
Daniel Deronda, Nicholas Nickleby, Amazing Grace (to name just a few, the article states that she was also considered for the role of Elizabeth Bennet but lost to Keira Knightley)
Points in her favor:
handsome, clever, probably rich, played a lovely saucy character in Daniel Deronda and can probably pull that off as Emma, has a pretty singing voice as evident in Daniel Deronda.
Points against her:
she's on the wrong side of 25 making her technically too old to play 21-year-old Emma Woodhouse, and personally I've always found her feet too large looking on screen. Her acting is also rather affected, a bit like seeing the same character over and over and she has a tendacy to whine a bit.
Taken all together:
Ms. Garai might very well do a lovely job, I think she can tap into the saucy side of Emma but also be kind and loving. Also we don't absolutely have to a blonde Emma as this particular actress looks very natural as a brunet as well as a blonde. I also know people have been wanting her to be in a Jane Austen adaptation for quite a while now and now to be a heroine - her time has come!
Sir Michael Gambon as Mr. Woodhouse
Other period films:
Wives and Daughters, Cranford, Sleepy Hallow, The Lost Prince, Amazing Grace (among the hundreds)
Points in his favor:
years on acting experience, lovely humor, and generaly adds a comfort and greatness to everything he's in.
Points against him:
let me see...nope, can't think of any...
Taken all together:
I think he's going to make a wonderful Mr. Woohouse, complaining and fearful for everyone's health but still quite lovable!
Jonny Lee Miller as Mr. Knightley
Other period films:
Mansfield Park 1983, Mansfield Park 1999 (not much else, mostly modern things)
Points in his favor:
he's the right age for Knightley and ten years older than Ramola Garai, rugged jaw, wild hair.
Points against him:
he's rather "too piano for me", definitely not the fine figure of a man that Mr. Knightley should be. He also isn't that becoming astride a horse, his acting in Mansfield Park was a bit dissapointing.
Taken all together:
I have serious doubts about him as Knightley, but time will tell.
The article also mentioned that filming will begin sometime next week in Surrey and Kent. What excitement!
Mood:

Hopeful