I've been addicted to the works of Charles Dickens lately. I found a channel on YouTube that had several adaptations of his stories to watch online. There were many I had seen before but I watched and enjoyed the biographies of Dickens and there were these two adaptations that I wanted to recommend to all of you. I have read very little Dickens content to get the essence of the story from film. These are two lesser known works so I'll make sure to include a short plot line.
Hard Times (1977)
Saving the best for last I will start with this BBC adaptation. Starring such talented British actors as
Timothy West
(Bleak House, Ever After) and
Edward Fox
(Daniel Deronda, Importance of Being Earnest). It is quiet an older filming and is quiet limited in scenery and simple in costumes and props. It reminds me of the older Austen adaptations, scripts true to the book but often long and somewhat dry.
Mr. Josiah Bounderby and Mr. Thomas Gradgrind
The story centers around Mr. Gradgrind a business man and mainly follows the lives of his two children and the young orphan he adopts as a companion for his wife. Young Tom and Louisa Gradgrind have the benefit of the best schooling, their lessons are all memorized, ground into them is the idea that knowledge is power. They are cut off from other people their own age, emotion and joy are checked and both long for something more. Young orphan Sissy Jupe is taken into their house and is given the same lessons and upbringing but her mind is less brilliant and she stops her lessons and grows up to be a loving companion and help to the sickly Mrs. Gradgrind.
As Tom grows up he goes into the banking business with Mr. Josiah Bounderby and in his search for meaning in life finds the excitement of the party scene and quickly falls into debt. While Louisa following her father's emotionless example enters into a loveless marriage with the much older Mr. Bounderby. Her motives are challenged and her life filled with new ideas when she meets Captain James Harthouse.
Actress Jacqueline Tong as Louisa Gradgrind Bounderby
There are some lovely moments of this film such as hearing Mr. Bounderby's life story which is quite humorous also the steadfast love of Stephen and Rachael is sweet and compelling. The moral of the story is that power, knowledge, prestige and even enjoyment are nothing without love. This reminds me of a passage from scripture:
"Though I speak with the tongues of men and of angels, and have not charity, I am become as sounding brass, or a tinkling cymbal.And though I have the gift of prophecy, and understand all mysteries, and all knowledge; and though I have all faith, so that I could remove mountains, and have not charity, I am nothing."

I Corinthians 13:1-2
Martin Chuzzlewit (1994)
Now for the best...I must say when I started watching this the plot seemed strange and I didn't expect to like it. But I persevered and really enjoyed seeing the plot unfold and have decided I must own this adaptation (my own DVD copy is in the mail)!
So for the plot...The Chuzzlewits and their various branches are a large proud family. At it's head is Old Martin Chuzzlewit, a seemingly miserly rich old man who has disinherited his own grandson. Young Martin has displeased his grandfather by declaring his love for a poor young woman, a kind of secretary/companion who Old Mr. Chuzzlewit adopted as an orphaned girl.
Tom Wilkinson as Mr. Pecksniff, Julia Sawalha as Mercy & Keith Allen as Jonas Chuzzlewit
The plot is often moved ahead by the character of Mr. Chuzzlewit's cousin Mr. Pecksniff and his two daughters shrewd Charity "Cherry" and nonsensical Mercy "Merry" (simply delightful names!). Mr. Pecksniff is called a "hypocrite" by several characters is the story yet he seems a loving father and is trusted by his faithful apprentice Mr. Pinch. The plot thickens when silly Mercy marries the questionable character Jonas Chuzzlewit who has dark secrets to hide.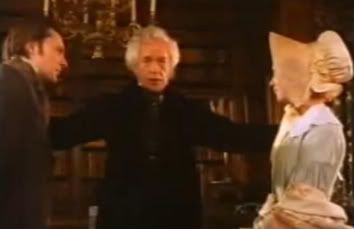 Young Martin, Old Mr. Chuzzlewit and young Mary Graham
There are a lovely cast of characters including some of the truest villains Dickens ever painted. And when mysteries are cleared up many characters are refined through the lessons they have learned. One of my favorite characters is old Mr. Chuffey who is the point of a joke about living past the threescore and ten years the Lord has given.
"The days of our years are threescore years and ten; and if by reason of strength they be fourscore years, yet is their strength labour and sorrow; for it is soon cut off, and we fly away."

Psalm 90:10
I do recommend both of these films, especially Martin Chuzzlewit . Both would be interesting to Dickens fans and period drama fans. As with others of Charles Dickens' tales the plots are thick and engrosing and the characters very well drawn. The acting both films is excellent and costumes and hairstyles are perfectly in keeping with the time period. So if you get a chance, check them out!
Publicity Photos from Martin Chuzzlewit