Well, Christmas and New Years Day have come and gone and I had really wanted to post about the activities but it's a little late. So this post is a review in pictures of my Christmas time with my family and friends.
Mountains of Ginger-Fred cookies for the Christmas party at dad's work
A lot of our time before Christmas was occupied with baking, cooking and shopping. Every year my sister makes these gingerbread men for the Christmas part at dad's workplace. Fellow co-workers always ask for the crisp and yummy gentlemen who we decorate with brightly colored clothing, the company name (FHC) and are often decorated to look like dad's boss hence the name Ginger-Fred cookies!
Almond Raspberry Shortbreads and Candy Cane Sugar Cookies
The week before Christmas we three ladies enjoyed an afternoon with mom's friend GariLu with luncheon and baking cookies. Our Candy Cane Sugar Cookies though tasting delightfully good were not as uniformly shaped as we had wished. Mommy's Almond Raspberry Shortbreads were elegant, light and oh so delicious!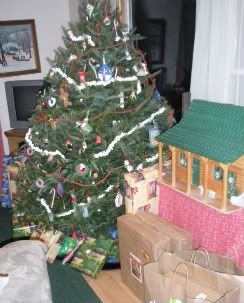 Our living room on Christmas Eve
Christmas day was a very quiet and relaxed time with just my own family. We got up early, dad read the Christmas story, baby Jesus - the best present of all - was unwrapped and put into our manger scene, then full stockings were unburdened of their prizes. After a large breakfast, we gathered around the overflowing tree to open gifts. Later we enjoyed a ham dinner with all the fixings. Christmas and the day after were so relaxed and slowly paced. We could just enjoy as a family our gifts, stories of gift shopping, playing new board games, watching new movies, and staying in our pajamas most of the day. My dad has enjoyed 10 days of vacation time and it's been nice to just all be home.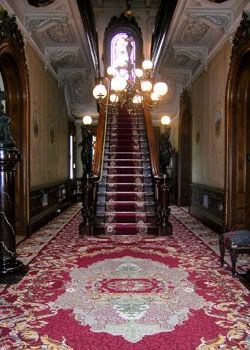 Main hall at Victoria Mansion in Portland, Maine
A few days before New Year's I joined my friend Karis and two of her family members in a tour of Victoria Mansion in Maine's largest city, Portland. The in town house was built between 1858-1860 as a summer home for a native Mainer who had made his money in the hotel business in New Orleans. I had toured this house when I was ten years old but remembered little beyond the amazing flying staircase in the center hallway. With the house decorated for Christmas all four of us just enjoyed walking through admiring the china, furniture, stained glass, paintings and architecture. Simply a wonderful taste of the Victorian era, every bit so lovely and full of history. I couldn't resist buying a book that tells the detailed history of the house as well as two little Victorian era books:
Manners for Men
, and
Manners for Women
by Mrs. "Madge of Truth" Humphrey. As I read these last two books I hope to add quotes from them to my blog posts.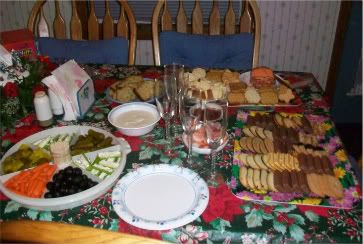 Our New Year's Eve feast
Our table on New Year's Eve was spread with all sorts of goodies from the veggie tray, crackers and cheese tray and BBQ meatballs to our packaged cookies (we're all tired of baking), chocolate mint trifle, and our scrumptious spinach artichoke dip. We always toast in the New Year with sparkling apple cider, prayers of thanksgiving and scripture reading. Welcome 2010!
Trying out my new curlers and curling iron
It's really been a great few weeks and it's currently snowing, snowing, snowing! We're supposed to get over 2 feet here. My sister and I have been playing board games and crafting and enjoying sister time. I've been practicing with my new hot curlers and curling iron, it's a bit wild but it's coming.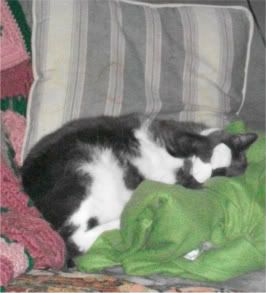 Our cat Gunther found mom's new blanket
Our cat's have enjoyed the family time too and our presents. I loved the way Gunther was covering his face with his paws as he lay on mom's Christmas gift. What a sweet kitty he is!
Tonight we're making pizza, enjoying the snow, and I'm trying to get over a cold that has just caught up with me.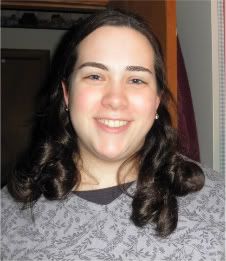 Me with my fluffy curls
So here I am wishing all of you lovely readers and fellow bloggers a very Happy New Year! Thank you all for your comments and encouragements. May the Lord bless you as we begin 2010!