It is
Day 8
and our last day of the
Feelin' Feminine Challenge
! We did 8 days altogether because we started on a Sunday and wanted to end on a Sunday too. Today we just wanted to post one picture of our outfits and then get to answering some questions about the challenge.
It was really rainy outside today so we took some photos inside. We wore green today because
St. Patrick's Day
is coming up!
Miss Bea's Skirt:
Homemade jean skirt, this was another Home-School project she did last Fall
Miss Bea's Shirt:
White short sleeve with embroidered roses
Miss Bea's Sweater:
Green cotton sweater a hand-me-down from our friend Sarah
Miss Bea's Shoes:
Black Mary-Janes from Kohl's
My Skirt:
Gray polyester, bought on sale at Fashion Bug
My Blouse:
Striped 3/4 length sleeve button down from Target, green tank underneath
My Shoes:
Brown/Green flats with pointed toe, K-Mart
I want to thank my sweet sister for taking on this challenge with me. It was a lot of fun and we certainly learned quite a bit. I love you Bea! :)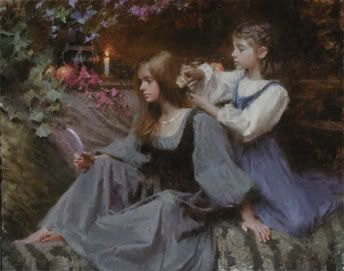 Now just a short quiz, our answers to the questions on the
Feelin' Feminine website
.
How was the experience for you? A bit awkward at first but we both really enjoyed our time in skirts!
Any particular stories? The second day of the Challenge we went for a country walk and it was certainly different "hiking" in a skirt.
Did wearing skirts rather than pants affect the way you felt? Yes, wearing skirts made us feel dressed up and feminine.
The way you felt about yourself? We felt prettier and more ladylike.
The way you acted? Not too much, we were around the house most of the week so we really just acted normally.
The way you carried yourself? Wearing skirts kind of made us stand straighter and walk a bit more nobly.
Were you able to go about your everyday activities as freely as in pants? Most of them, we hiked and went shopping in our skirts, I drove the van and did errands just the same. Miss Bea says that riding a bike in a skirt was rather tricky but she did it for a while. :)
How did people respond? Some people were a bit surprised that we wanted to take on this challenge but most were very encouraging and said they admired our determination, especially with these cooler temperatures.
Were you more respected? By some people, but in general people's attitudes toward us were the same as always.
Did you feel more like a lady? Yes! Miss Bea says she felt more like a Princess and felt we were more dressed up than usual. It was fun trying hairstyles and putting a bit more thought into what we wore each day.
After the challenge do you desire to keep wearing skirts more regularly, or were you desperate to wear pants again? We kind of want to wear pants but just because it's turned really cold these past few days and our ankles are freezing. But we really enjoy wearing skirts and wouldn't mind wearing more skirts as the weather turns warmer.
So the
verdict
is, it wasn't much of a challenge wearing skirts for a week because we really enjoyed it! :)
Thanks
to all of you who commented and encouraged us throughout the week! We had a lot of fun taking photos for ya'll.
Hope you have a lovely day!
God Bless,
Miss Laurie