Bonus Question: What musical does this photo come from?
Answer: State Fair (1954)
Here are the answers for the
Period Musical Lyrics Game
from last week. I'm linking each of the song titles to YouTube videos that include the song (most are movie clips) for your enjoyment.
It was great to see how many of these musicals y'all recognized! :)
Musical Song Lyrics Answers:
Song #1
There's a sad sort of clanging
From the clock in the hall
And the bells in the steeple, too
And up in the nursery
An absurd little bird
Is popping out to say coo-coo
Answer: So Long, Farewell from The Sound of Music
~*~
Song #2
We never said our love was evergreen,
or as unchanging as the sea -
but if you can still remember,
stop and Think of Me
Answer: Think Of Me from The Phantom of the Opera
~*~
Song #3
I dreamed last night I got on the boat to Heaven
And by some chance I had brought my dice along
And there I stood and I hollered, "Someone fade me"
But the passengers, they knew right from wrong
Answer: Sit Down, You're Rocking the Boat from Guys and Dolls
Note:
I was almost seventeen before I even knew where this song came from because my mom used to have this song (and
Bushel and a Peck
) on an old record album we used to listen to all the time when I was a little girl.
~*~
Song #4
Are you the sweet invention
Of a lover's dream
Or are you really as
Beautiful as you seem
Answer: Do I Love You Because You're Beautiful? from Rodgers & Hammerstein's Cinderella
~*~
Song #5
Who cares what they're wearing
On main street or Seville row
It's what you wear from ear to ear
And not from head to toe that matters
Answer: You're Never Fully Dressed Without a Smile from Annie
~*~
Song #6
Toot sweets sound like what they are
So do lollys in a lollypop jar
Gingerbread men have a gingerbread sound, we've found
Sugar plum cinnamon and lemon tart tell you what they are right from the
start
And your name does the same for you
By coincidence, Truly Scrumptious
You're truly Truly Scrumptious
Scrumptious as a cherry peach parfait
Answer: Truly Scrumptious from Chitty Chitty Bang Bang
~*~
Song #7
While shivering in my shoes
I strike a careless pose
And Whistle A Happy Tune
And no one ever knows
I'm afraid.
The result of this deception
Is very strange to tell
For when I fool the people
I fear I fool myself as well!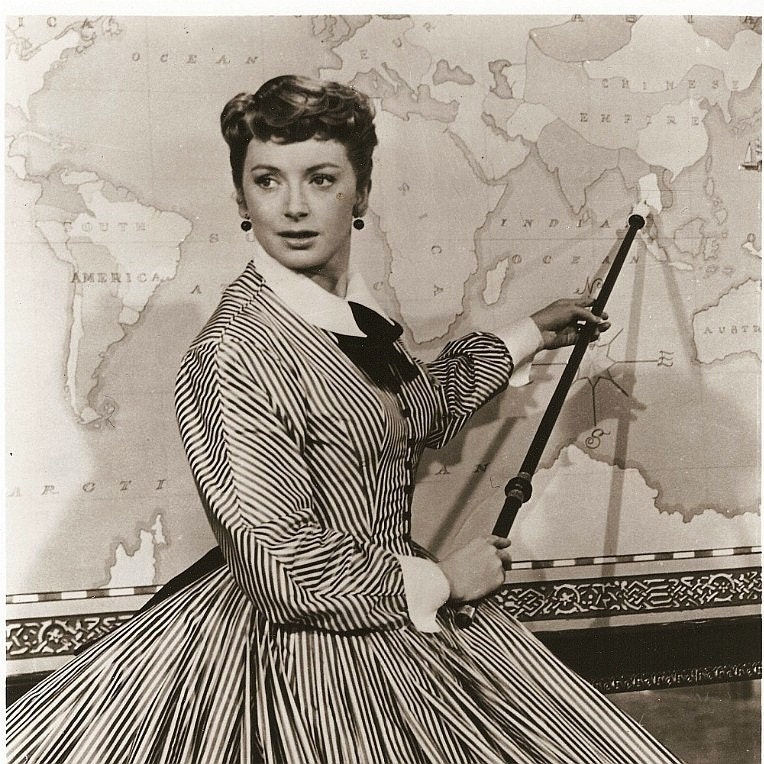 Answer: I Whistle A Happy Tune from The King and I
~*~
Song #8
Someone use to cradle them and kiss them when the cried
Did you see them lying side by side?
Who will wake them?
No one ever will


Answer: Turning, Turning from Les Miserables
~*~
Song #9
My dad said "Be an actor, my son
But be a comical one
They'll be standing in lines
For those old honky tonk monkeyshines"
Now you could study Shakespeare and be quite elite
And you can charm the critics and have nothin' to eat
Just slip on a banana peel
The world's at your feet
Answer: Make 'Em Laugh from Singin' In the Rain
~*~
Song #10
There's a bright golden haze in the meadow
There's a bright golden haze in the meadow
The corn is as high as an elephants side
And it looks like its climbin' clear up to the sky
Answer: Oh What A Beautiful Mornin' from Oklahoma!
~*~
Song #11
Still, Half a Sixpence
Is better than half a penny
Is better than half a farthing
Is better than none
It's a token of
Our eternal love
When you're far away
Touch it everyday
And, though, that Half a Sixpence
Can only mean half a romance
Remember that half a romance
Is better than none
Answer: Half A Sixpence from Half A Sixpence
Note:
I've only seen this musical once and although the story is a bit odd I greatly enjoyed seeing Tommy Steele (The Happiest Millionaire, Finnian's Rainbow) in another musical!
~*~
Song #12
When the rhythm pounds
And the harmony sounds
And the melody rolls around
"Prest-o Change-o!"
We're Ten Feet Off the Ground
And when the rhythm pounds
And the harmony sounds
And the melody rolls around
Right from the down beat,
We can be found
Ten Feet Off the Ground
Answer: Ten Feet Off The Ground from The One And Only Genuine Family Band
Note:
I've only seen this once and while it's excellent I always forget this song is in that film because I grew up hearing Michael Fienstein singing on his children's album
Pure Imagination
.
~*~
Players Scores:
Elizabeth Grace Foley - 110 points
E. Kate - 105 points
Idsjaneite - 105 points
beastsbelle - 100 points
Miss Dashwood - 100 points
Rhoswen Faerie Wrose - 100 points
Hamlette - 85 points
Kiri Liz - 70 points
Meredith - 65 points
Robyn Hoode - 55 points
Eva - 50 points
Emma Jane - 45 points
Katelyn - 30 points
Melody - 30 points
Thanks for playing!