Wives & Daughters is another film I have wanted to see for a long time but just haven't been able to get my hands on.
I found it on YouTube (I know, I know) and couldn't help watching all of it.
I adore Elizabeth Gaskell and I had read quite a bit of Wives and Daughters before but had no idea how the story would end.
The plot of the family relationship of widowed father who married again, step-mother and step-sister, are familiar. But what a different step-sister!
I was also glad to see Tom Hollander in a role where he wasn't a rouge (I've only seen him in Pride & Prejudice and Pirates of the Caribbean). I cried so much at his tragic end, I loved his character as much as Molly did.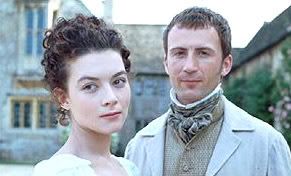 The ending surprised me and I was a bit disappointed in the lack of physical contact (even after their marriage) but pleased that it was kept clean and true love, friendship and purity were prized above all else. The beauty of the film, the costumes and the story line.
Elizabeth Gaskell's plots always surprise me, similar to other plots but so completely different in many ways. If you've never seen it before...this will definitely be on my Christmas list! :)