"Anne took the dress and looked at it in reverent silence. Oh, how pretty it was--a lovely soft brown gloria with all the gloss of silk; a skirt with dainty frills and shirrings; a waist elaborately pintucked in the most fashionable way, with a little ruffle of filmy lace at the neck. But the sleeves--they were the crowning glory! Long elbow cuffs, and above them two beautiful puffs divided by rows of shirring and bows of brown-silk ribbon."
"I don't see how I'm going to eat breakfast," said Anne rapturously. "Breakfast seems so commonplace at such an exciting moment. I'd rather feast my eyes on that dress. I'm so glad that puffed sleeves are still fashionable. It did seem to me that I'd never get over it if they went out before I had a dress with them. I'd never have felt quite satisfied, you see."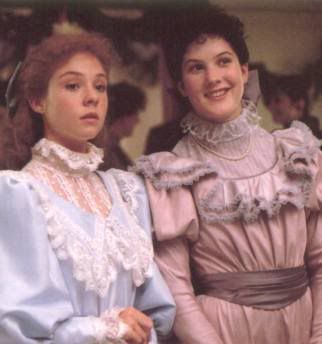 "Merry Christmas, Diana! And oh, it's a wonderful Christmas. I've something splendid to show you. Matthew has given me the loveliest dress, with

such

sleeves. I couldn't even imagine any nicer."
" Then I thought of my lovely puffed sleeves and took courage. I knew that I must live up to those sleeves, Diana."
From
Anne of Green Gables
by Lucy Maud Montgomery, chapter 25.