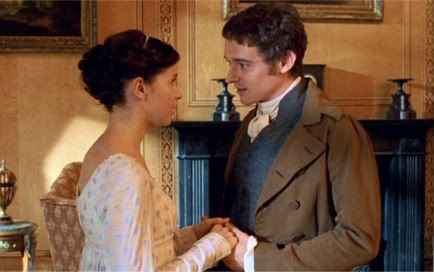 In preparing this post I actually went blank on Old-Fashioned things. Can you believe it?
I mostly wanted to post about my brother who just graduated from high school this past weekend!
Me with my "little" brother Andy, the graduate!
Another homeschooler who's gone all the way through (and one more student to go). Andy isn't quite sure what he wants to do after his graduation but he plans on working at a local farm during the summer. He wants to do something with his art or in accounting. I know the Lord has great plans for him.
Then I was thinking of all the things that I've been doing lately. Today was my day off and I made waffles for breakfast and worked on some household chores. I also received a
friend's book
in the mail and am excited to start reading it. I'm waiting for both the
Ever After
soundtrack and the
Ladies in Lavender
soundtrack to arrive soon.
I also did some work on my computer and wasted some time playing with Regency paper dolls online. The
lady's
petticoats, bonnets, and shawls as well as the
gentleman's
cravats, boots and greatcoats are much fun to mix and match. But be aware that it can be very addictive! :)
Hope you are having a lovely week!
Mood


Nerdy