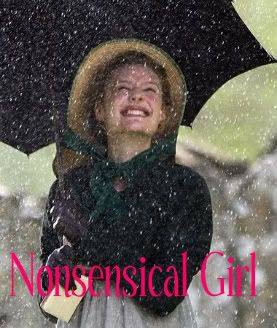 I have been terribly lax in posting the newest info on the BBC Emma adaptation. Most of you probably know that there is a wonderful new trailer for the film which has just whet my appetite and made me very ready to embrace this new adaptation for it's own charms. I believe it will be as good as the Andrew Davies Sense & Sensibility adaptation if not better and almost reaching on a level with the other Austen adaptations we know and love.
Now for a little fun, let's do a play by play of the trailer so we don't miss a bit of the info they've given us about the script and the actors.
-Mr. Knightley asks: "Will you dance, dear Emma?" Followed by the beginning of their dance at the ball.
-Meeting Harriet Smith: "Who is that young woman?" Emma asks Miss Goddard. "That is Harriet Smith." Shows a lovely Harriet Smith with some of you friends from the school.
-Emma and Harriet loaded with bundles for the poor. Emma is instructing Harriet: "There are plenty of suitable suitors around." And they wave to one of them, a Mr. Elton who has eyes shining for one of them.
-Short clip of Mr. Knightley walking on the lawn of Donwell Abbey?
-Emma and Harriet out walking run into Mr. Churchill: "You seem lost sir." He replies: "I'm not lost." I'd assume that this is their very first meeting which would make the next scene so much funnier.
-Emma speaking to Mr. Churchill on their first public meeting: "I've heard so much about you, it's as if we had already met." And they probably already have, he on horseback in the woods. Perhaps intimating that his first visit was to Jane Fairfax and not to his father? While Emma is speaking we see a glimpse of Mr. Weston and Mr. Woodhouse behind them.
-Mr Knightley's voice chiding Emma about her making Harriet refuse Robert Martin: "As you make no secret of your love of matchmaking, I assume you would not have taken this drastic step unless you had another suitor in mind." Meanwhile we see Mr. Weston smiling at Miss Taylor across church. And a bit more of Emma's dance with Mr. Knightley.
-Mr. Knightley saying: "One day, you will bitterly regret your meddling." Jonny Lee Miller is perfect in that scene! I'm so excited!
-A view of Emma, perhaps realizing her love for Mr. Knightley or realizing something else. Then a clip of what looks like Frank Churchill dancing with Jane Fairfax in the town square.
-Mr. Elton and his bride quite as they should be. Mr. Knightley whispering to his wife: "Remember that people of Highbury are quite...unsophisticated. They do not have your experience of life." Augusta (and I think that's what I'm most likely to call this Mrs Elton) says: "Quite so. And in Bath we would certainly have announced dinner by now." And there's several good clips of Emma, Mrs. Weston and Mr. Woodhouse sitting round. This is I think supposed to be a private conversation between husband and wife but one that can't help being overheard. This sort of talk isn't quite in accordance with Mrs. Elton's public image though it is with her private life. To Emma's right is a lady dressed in blue who I believe is Jane Fairfax.
-Emma bursting into Mr. Knightley's library (which looks quite familiar like the one in the latest S&S film): "You know I love you, and I always will. But we can never marry! That's all!" So this scene I'm sure has to be after he's already professed his love and she is just realizing that because of her father they could never marry. I think this is a great way to show how nonsensical Emma is and especially an Emma truly in love! Rest assured that Mr. Knightley runs after her and clears up everything.
-Another clip from their dance at the ball. This dance seems very familiar and I'm sure I've seen it in another adaptation.
-Scene of Emma teasing Mr. Knightley on their arrival at the Cole's party: "'Tis the arrival of a gentleman, at last. I am happy to enter the room with you for once."
His good humored reply is: "Nonsensical girl!" in which he looks most like Knightley. I love this witty banter, it's so much like brother and sister. Mr. Knightley knows Emma well enough to see she's being coy but not truly flirtatious.
-Ends with the closing scene from their dance at the ball. Emma truly had a wonderful time dancing and she heartily applauds the musicians.
Wow, that was fun! Sorry for being so wordy!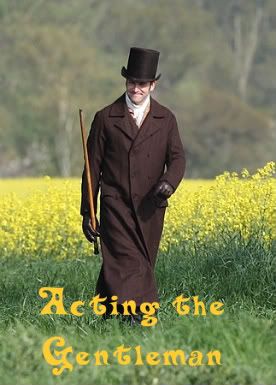 Many of my blogging friends have also drawn my attention to
photos
taken from the set of the new Cranford Christmas Special! What fun to see Mary Smith's character back as well as others and to see how much Harry Gregson had grown!
Hope you have a wonderful day!
Mood:


Optimistic