I am a huge YouTube nerd and I keep finding movies on there that I've been wanting to view. Since it came out in 2002 I've been wanting to see the newest
Tuck Everlasting
adaptation. I have never read the book by
Natalie Babbitt
, but I have fond memories of watching the older
1981 version
which my mom had recorded from television when I was young (not even sure we have that VHS any more).
The first thing that struck me was how many of the cast members I recognized including
Alexis Bledel
as Winnie Foster,
William Hurt
as
Mr. Tuck
, and
Ben Kingsley
as the
Man in the Yellow Suit
.
This film is romantic and visually stunning with scenes and costumes all set perfectly. Actors gave great performances and the script told the story in a lovely and youthful way through Winnie's eyes. The romance between Winnie and Jesse is truthful and cute and very sweet to watch.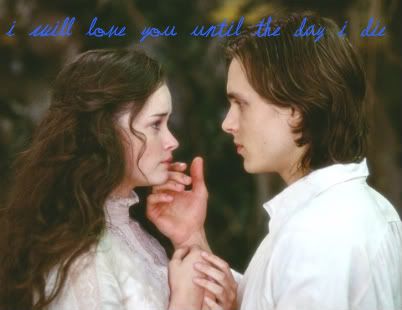 If you're not familiar with it, the story centers on young Winnifred Foster and her meeting with the Tuck family who lives in the woods beyond her gated and protected Victorian home. She first meets 17-year-old
Jesse
who keeps her from drinking from a spring which flows out of a tree. Jesse takes Winnie home with him where she meets his parents Angus and Mae Tuck, and his pessimistic brother
Miles
. The Tucks have a strange secret which begins to unfold as Winnie stays with the family, their secret, they have found the key to immortality. For Angus and
Mae
their immortality has made them cautious and lonely; for Miles it has meant pain and heartbreak; but for Jesse each day is new and exciting. When
Winnie's parents
hire the Man in the Yellow Suit to find their missing daughter it's clear that he has his own plans in mind for the secret to immortality. Only a bittersweet end is possible.
I enjoy the fun and fantasy of this story it has it's sweet moments and is good clean fun. But how thankful I am that after the fall of man the Lord God graciously closed off the garden of Eden and our access to the Tree of Life so that none of us have to live with sin and these fleshly bodies forever. Though immortality sounds good, staying as I am does not. After my body dies my soul will live on, and because I know Christ as savior and Lord it means I will spend eternity with Him. I will have a new glorified body and I will never sin again, I will praise His name forever. What a beautiful thing that life does end and that new things do begin!



"O the depth of the riches both of the wisdom and knowledge of God! how unsearchable are his judgments, and his ways past finding out!" Romans 11:33
Mood:


Dirty (I went hiking today got all muddy)