I hope everyone had a marvelous weekend and are starting off another week with sunshine.
I am mostly posting to let all of you know about two different challenges that I'll be participating in and thought you might find interesting.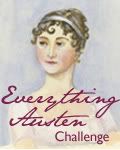 Everything Austen Challenge
- from
Stephanie's Written Word
Running from July 1, 2009 - January 1, 2010 the challenge here is to commit to reading or watching to six books or movies that have in some way to do with Jane Austen. The deadline for sign-up is July 15th so if you're interested hop on over and take a look.
Here are my six Jane Austen things:
1. Mansfield Park by Jane Austen (have never read MP though I love the story and have watched every adaptation, read parts, listened to abridged audio books, and generally know the story by heart. Here's my chance to finally read it!)
2. Mansfield Park 2008 (have seen but want to buy DVD for my Austen collection)
3. Persuasion 2008 (have seen but want to buy DVD for my Austen collection)
4. Just Jane by Nancy Moser (have owned for a year and a half and just haven't finished it)
5. Jane and the Genius of the Place by Stephanie Baron (Book 4 of the Austen mysteries that I have owned for a year and a half and have barely cracked the first page!)
6. Miss Austen Regrets (own by want to watch again, probably after reading Just Jane)
Really looking forward to getting back into Jane Austen after having taken a break lately and also to reading some of these "Must Reads" that have been hanging around for too long!
Period Drama Challenge
- from
Lights, Camera, History!
The rules of this challenge are easy, you choose what level you wish to participate at (how many period dramas you will watch) and what categories you will watch from (up to two categories). When I asked them whether the movies had to be ones you've never seen before, Ana said they could be whatever - old favorites or new views. I chose to watch 8 movies over the next 12 months and haven't quite chosen my categories yet but am debating over these:
- Kings & Queens (central plot around royalty)
- Bonnets & Hessians (set during the Regency)
- Victorian Mist (set during the Victorian era)
Not quite sure which one I'll choose but should be fun. Now I just have to choose which films to watch...oh the choices!
With both of these challenges the hosts have asked that participants blog about their progress and/or reviews of books and films so you can expect to see more posts on this. I'm creating two new Labels for my posts about the challenges.
Hope you find these challenges as fun as I do and even consider joining in! Have a lovely day!
Mood:


Thirsty (going to get some iced tea)
Edited January 4, 2013 to add films:
Period Drama Challenge - from Lights, Camera, History!
(12 Period Drama Reviews in a year)
-
Now There's A Challenge!
1.
Pride & Prejudice 1980
2.
Sense & Sensibility 1971
3.
The Way We Live Now
4.
My Life As A Fairytale: Hans Christian Andersen
5.
The Barchester Chronicles
6.
David Copperfield 2000
7.
The Old Curiosity Shop (2007)
8.
An Old Fashioned Thanksgiving
9.
Far From The Madding Crowd
10.
Under The Greenwood Tree
11.
He Knew He Was Right
12.
Our Mutual Friend (1998)