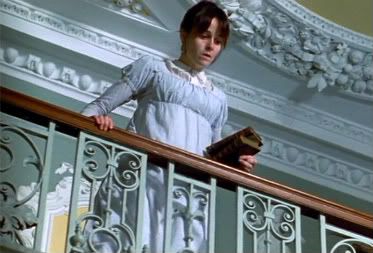 Each Jane Austen heroine has her favorite past time and one of Anne Elliot's past times is reading the latest poetry and prose. Jane Austen was very fond of reading the latest publications and this just one of the ways in which she is similar to this elegant heroine.
Poetry Mentioned in the book: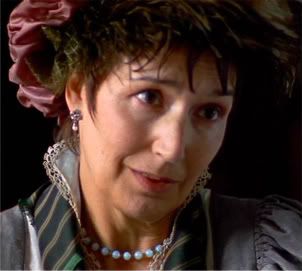 From this quote of Elizabeth's it is clear that Anne's love of poetry is shared by Lady Russell:
"...Oh! you may as well take back that tiresome book she would lend me, and pretend I have read it through. I really cannot be plaguing myself for ever with all the new poems and states of the nation that come out. Lady Russell quite bores one with her new publications...."
- Persuasion, Chapter 22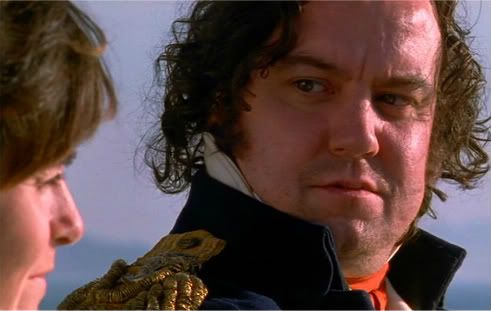 Anne has occasion to befriend Captain Benwick through speaking of their mutual love for poetry:
"While Captains Wentworth and Harville led the talk on one side of the room...it fell to Anne's lot to be placed rather apart with Captain Benwick; and a very good impulse of her nature obliged her to begin an acquaintance with him. He was shy, and disposed to abstraction; but the engaging mildness of her countenance, and gentleness of her manners, soon had their effect... He was evidently a young man of considerable taste in reading, though principally in poetry...and having talked of poetry, the richness of the present age, and gone through a brief comparison of opinion as to the first-rate poets, trying to ascertain whether Marmion or The Lady of the Lake were to be preferred, and how ranked the Giaour and The Bride of Abydos, and moreover, how the Giaour was to be pronounced, he shewed himself so intimately acquainted with all the tenderest songs of the one poet, and all the impassioned descriptions of hopeless agony of the other; he repeated with such tremulous feeling the various lines which imaged a broken heart, or a mind destroyed by wretchedness, and looked so entirely as if he meant to be understood, that she ventured to hope he did not always read only poetry, and to say that she thought it was the misfortune of poetry to be seldom safely enjoyed by those who enjoyed it completely; and that the strong feelings which alone could estimate it truly were the very feelings which ought to taste it but sparingly.
...feeling in herself the right of seniority of mind, she ventured to recommend a larger allowance of prose in his daily study; and on being requested to particularize, mentioned such works of our best moralists, such collections of the finest letters, such memoirs of characters of worth and suffering, as occurred to her at the moment as calculated to rouse and fortify the mind by the highest precepts, and the strongest examples of moral and religious endurances.
"
- Persuasion, Chapter 11
The writings mentioned in the book are all epic poems, here are links if you're interested in further reading: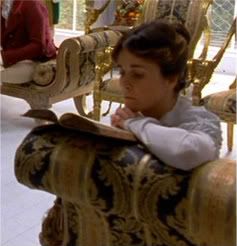 Captain Benwick was so taken with Anne that all of his acquaintance and even Lady Russell almost expected him to call and court Anne before she went to stay in Bath with her father. But, Captain Benwick was already falling for Louisa Musgrove and theirs is also a literary match. Anne muses:
"
Louisa had fine naval fervour to begin with, and they would soon grow more alike. He would gain cheerfulness, and she would learn to be an enthusiast for Scott and Lord Byron; nay, that was probably learnt already; of course they had fallen in love over poetry. The idea of Louisa Musgrove turned into a person of literary taste, and sentimental reflection was amusing, but she had no doubt of its being so."
- Persuasion, Chapter 18
Poetry Mentioned in Persuasion (1971):
Anne quotes from
To Autumn
by James Thomson, (exerpted from
'The Seasons')
during the long walk to Winthrop.
This is the part she quotes:
BUT see the fading many-colour'd Woods,
Shade deepening over Shade, the Country round
Imbrown; a crouded Umbrage, dusk , and dun,
Of every Hue, from wan declining Green
Too sooty Dark. These now the lonesome Muse,
Low—whispering, lead into their leaf-strown Walks,
And give the Season in its latest View.

Interrupted by her sister Mary who doesn't want to hear the rest, Henrietta later asks Anne to quote more of the poem:


MEAN-TIME, light-shadowing all, a sober Calm
Fleeces unbounded Ether; whose least Wave
Stands tremulous, uncertain where to turn
The gentle Current; while, illumin'd wide,
The dewy-skirted Clouds imbibe the Sun,
And thro' their lucid Veil his soften'd Force
Shed o'er the peaceful World. Then is the Time,
For those whom Wisdom and whom Nature charm,
To steal themselves from the degenerate Croud,
And soar above this little Scene of Things;
To tread low-thoughted Vice beneath their Feet;
To soothe the throbbing Passions into Peace;
And wooe lone Quiet in her silent Walks.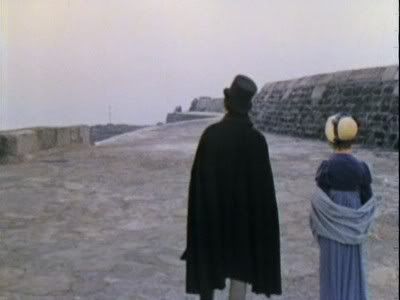 While speaking of poetry Captain Benwick asks Anne "have you heard that
song from Marmion
?" and then he quotes from Marmion by Sir Walter Scott:
Where shall the lover rest
Whom the fates sever
From his true maiden's breast
Parted for ever?
Where, through groves deep and high
Sounds the far billow,
Where early violets die
Under the willow.
When Anne suggests Lord Byron because he is "such a witty poet" Captain Benwick states that "he can write too with such intense passion" and for an example he quotes from the Second Canton of The Bride of Abydos by Lord Byron:
Peace to thy broken heart, and virgin grave!
Ah! happy! but of life to lose the worst!
That grief — though deep — though fatal — was thy first!
Thrice happy! ne'er to feel nor fear the force
Of absence, shame, pride, hate, revenge, remorse!
Poetry Mentioned in Persuasion (1995):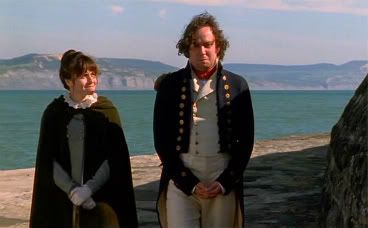 When Captain Benwick asks Anne "do you prefer Marmion or The Lady of the Lake?" she replies by quoting a line from The Lady of the Lake by Sir Walter Scott (Canto iii. Stanza 16):
"Like the dew on the mountain,
Like the foam on the river,
Like the bubble on the fountain,
Thou art gone, and forever!"
Captain Benwick quotes to Anne from the end of
Fare Thee Well
by
Lord Byron
.
Fare thee well ! thus disunited,
Torn from every nearer tie,
Sear'd in heart, and lone, and blighted,
More than this I scarce can die.
Poetry Mentioned in Persuasion (2007):

I was watching this film again last night and I was quite disappointed that there wasn't any poetry actually quoted in the film! Anne and Captain Benwick instead run through the majority of the tet-a-tet Anne has with Captain Harville in the book. But later while walking on the Cobb later she does speak to Captain Harville later about Benwick.
Perhaps the best bit of poetry in Persuasion is Captain Wentworth's wonderful proposal letter
at the very end! This letter seems to quietly point to Anne's love of romantic writings. Although it fits very much with the story it is also amazingly wonderful as a stand-alone piece and is quoted very often! It is also one of my favorite parts of the story!
"The letter, with a direction hardly legible, to "Miss A. E -- ," was evidently the one which he had been folding so hastily. While supposed to be writing only to Captain Benwick, he had been also addressing her! On the contents of that letter depended all which this world could do for her. Anything was possible, anything might be defied rather than suspense. Mrs. Musgrove had little arrangements of her own at her own table; to their protection she must trust, and, sinking into the chair which he had occupied, succeeding to the very spot where he had leaned and written, her eyes devoured the following words --
"I can listen no longer in silence. I must speak to you by such means as are within my reach. You pierce my soul. I am half agony, half hope. Tell me not that I am too late, that such precious feelings are gone for ever. I offer myself to you again with a heart even more your own than when you almost broke it, eight years and a half ago. Dare not say that man forgets sooner than woman, that his love has an earlier death. I have loved none but you. Unjust I may have been, weak and resentful I have been, but never inconstant. You alone have brought me to Bath. For you alone I think and plan. Have you not seen this? Can you fail to have understood my wishes? I had not waited even these ten days, could I have read your feelings, as I think you must have penetrated mine. I can hardly write. I am every instant hearing something which overpowers me. You sink your voice, but I can distinguish the tones of that voice when they would be lost on others. Too good, too excellent creature! You do us justice, indeed. You do believe that there is true attachment and constancy among men. Believe it to be most fervent, most undeviating, in
F. W."
"I must go, uncertain of my fate; but I shall return hither, or follow your party, as soon as possible. A word, a look will be enough to decide whether I enter your father's house this evening or never."
Such a letter was not to be soon recovered from. Half an hour's solitude and reflection might have tranquillized her; but the ten minutes only which now passed before she was interrupted, with all the restraints of her situation, could do nothing towards tranquillity. Every moment rather brought fresh agitation. It was an overpowering happiness.
- Persuasion, Chapter 23
Well, I had so much fun re-watching the "poetry" parts of the films and looking up the quotes of poetry for this post! But I must confess that I've only read bits and pieces of the epic poems mentioned here. Most of my information came from this lovely page at
Republic of Pemberley
that lists all the literary works listed in the various adaptations!
Have you ever read Sir Walter Scott or Lord Byron's works before?
Who are you favorite poets?