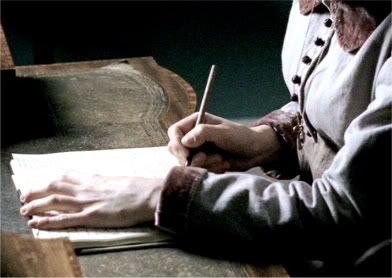 Time to find out how much you know about Anne Elliot and her world! Take this Persuasion Facts Quiz to find out. All answers to the questions are based on the book (not film adaptations) so think carefully!
Comment with your answers to the questions below (which I won't post) and I'll comment back with your scores.
1. Why did Anne Elliot refuse Captain Wentworth's proposal all those years ago?
a. Her father forbid the match
b. Lady Russell discouraged her
c. She felt unworthy
d. All of the above
2. What is the name of Sir Walter Elliot's estate?
a. Elliot Hall
b. Uppercross
c. Winthrop
d. Kellynch
3. How many sisters does Anne have?
a. One sister
b. Two sisters
c. Three Sisters
d. One sister, one sister-in-law
4. What does Sir Walter need to do but doesn't want to do?
a. Go to Bath
b. Have a son and heir
c. Remarry
d. Retrench
5. Who rents Sir Walter's house?
a. The Musgroves
b. The Elliots
c. The Crofts
d. The Wentworths
6. What is Mrs. Clay's first name?
a. Charlotte
b. Penelope
c. Sophia
d. Not given in book
7. What are the names of Charles & Mary Musgrove's two little boys?
a. Charles & Henry
b. William & Walter
c. John & Frederick
d. Charles & Walter
8. Where did Anne first see Captain Wentworth again?
a. Uppercross Cottage
b. Kellynch
c. Uppercross
d. Kellynch Lodge
9. What is the name of the first ship Captain Wentworth commanded?
a. The Antwerp
b. The Asp
c. The Laconia
d. The Endeavour
10. What is Mr. Hayter's first name?
a. Henry
b. William
c. John
d. Charles
11. Who do the party from Uppercross visit in Lyme?
a. The Crofts
b. The Benwicks
c. The Harvilles
d. The Hargroves
12. What is the real first name of Captain Benwick's fiancee who died tragically?
a. Fanny
b. Phoebe
c. Phyllis
d. Frederica
13. Who does Anne spend Christmas with?
a. The Crofts
b. Lady Russell
c. Charles & Mary Musgrove
d. Sir Walter & Elizabeth
14. Why are Sir Walter and Elizabeth happy to have Anne with them in Bath?
a. Because they are tired of Mrs. Clay
b. Because they love her
c. Because they want to hear about Louisa's fall
d. Because she'll make a fourth at dinner
15. Where did Anne first see Mr. Elliot?
a. At Bath
b. At Lyme
c. At Uppercross
d. At Kellynch
16. Who does Anne visit in Westgate Buildings?
a. Lady Russell
b. Mrs. Clay
c. Lady Dalymple
d. Mrs. Smith
17. Who first tells Anne that Louisa is engaged to Captain Benwick?
a. Admiral Croft
b. Mary Musgrove
c. Captain Wentworth
d. Mrs. Musgrove
18. In which Bath shop does Anne bump into Captain Wentworth again?
a. Mollands
b. Morlands
c. Mums
d. Gowlands
19. How did Elizabeth Elliot react when she first saw Captain Wentworth in Bath?
a. Smiled and grinned
b. Bowed elegantly
c. Shook hands warmly
d. Turned away
20. Who did Mrs. Smith think Anne would marry?
a. Captain Wentworth
b. Charles Musgrove
c. Mr. Elliot
d. Captain Benwick
21. How does Captain Wentworth's letter start?
a. "You pierce my soul..."
b. "Dear Anne..."
c. "I love you..."
d. "I can listen no longer in silence..."