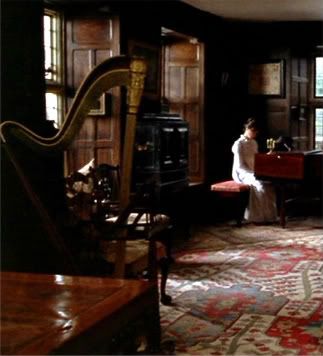 No party would be quite the same without music to liven it up! Music and dancing were part of most Regency gatherings.
There was a lot of wonderful music used in the three available film adaptations of
Persuasion
and this is what I'll be focusing on. Music for you to enjoy which Anne Elliot and her fellow characters would have listened to and enjoyed!
Music from Persuasion (1971) -
Most of the music from this film is classical with some traditional dances.
Opening Theme Song:
The music in this BBC adaptations is mostly tunes and classical pieces of the era. The opening song is
"

A Downland Suite: III - Minuet: Allegretto grazioso" composed by John Ireland.
There are a couple dances and an operatic aria but I have't been able to figure out exactly what they are.
Music from Persuasion (1995) - Most of the music from this film adaptation was from classical composers Frédéric Chopin and Johann Sebastian Bach and only a bit was the original work of composer Jeremy Samms.
Music from Opening Scene:
"Prelude in B" c
omposed by Frédéric Chopin.
Anne Leaves Kellynch: "Sarabande in D (French Suite)" composed by Johann Sebastian Bach
Long Walk to Winthrop:
"Nocturne in B"composed by Frédéric Chopin
On the Cobb at Lyme:
"Prelude in G" composed by Frédéric Chopin
A Rainy Day In Bath:
"Sarabande in B (French Suite)" composed by Johann Sebastian Bach
I finally found the answer to the nagging question
What song is Captain Wentworth trying to play on the piano in Persuasion (1995)? The answer is
'The Minstral Boy'
which is an Irish ballad, written by Thomas Moore, about a boy going to war. You can
hear the whole song on piano here
and even listen to it played half tempo like Captain Wentworth does when he's trying to sound it out.
Dance at Uppercross:
After much searching I finally discovered that the tune Anne plays for the others to dance to is
"The Dusky Night"
a traditional tune to which author Henry Fielding wrote a poem called
'The Hunting Song'
. Th sheet music can be found
here
.
The
harp music
on the end of the video above was apparently composed by Jeremy Samms especially for the film.
Italian Arias:
Anne was proficient in Italian enough to translate most of the words in the Italian arias that were played at the concert. I love this bit of info about Anne because it seems that she did have a love and appreciation for opera! I couldn't figure out what arias the soprano was singing at the concert or at the end of the film. If anyone has an idea let me know.

Music From Persuasion (2007) -
most of the music in the soundtrack was specially composed for the film but there were a few pieces from the era that were played.
Anne Plays Piano:
While Captain Wentworth looks on Anne plays "Piano Sonata No. 14 in C-sharp minor (Moonlight Sonata)", composed by Ludwig van Beethoven.
Dancing at Kellynch:
While the Captain Wentworth and the others dance at Kellynch Anne plays "German Dance in D Major" by Franz Schubert on the piano.
At the Bath Concert:
While Anne leaves to concert room in pursuit of Captain Wentworth the orchestra begins to play "Symphony 25 in G Minor" by Wolfgang Amadeus Mozart.
Very Truly Your's,