...Miss Anne Elliot of Jane Austen's Persuasion!
"...Anne, with an elegance of mind and sweetness of character, which must have placed her high with any people of real understanding..." - Persuasion, Chapter 1
Some of you will remember that last year I hosted a grand and glorious
Birthday Party for Ann
e here at OFC (all of the posts are still available for reading
here
). This year I have to admit that I had totally forgotten to about Miss Anne's birthday until I saw
this post
at
Faith, Hope and Cherrytea
blog late last night. How could I have forgotten?!? But I'm here now!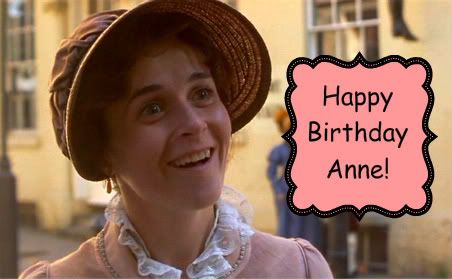 "To Lady Russell, indeed, she [Anne] was a most dear and highly valued god-daughter, favourite, and friend. Lady Russell loved them all, but it was only in Anne that she could fancy the mother to revive again." - Persuasion

"...if Anne will stay, no one so proper, so capable as Anne." - Captain Wentworth, Persuasion
Anne's virtues are many! She is sweet, patient, kind, selfless, tenderhearted and mothering. She loves her family even though they frequently neglect her. She is a faithful friend, a caring aunt, a good listener and acts upon what she knows to be right. Her one fault is having not believed in her own good sense and worth enough to marry Captain Wentworth when he first asked. I identify with her in a way but until I had patience like a saint I could never be as constant as Anne. Loving as she did when all hope is gone can only come from a deeply attached heart. Her heart aches with regrets and yet still her sense is invaluable and she is always of use to those around her. She has the great elegance and sense that I especially admire in a heroine and hope to have myself. I admire her greatly and rejoice in her final gain of the man who truly loves and appreciates her. Miss Anne has been a favorite for a long time and each time I re-read
Persuasion
I just grow to love her more!
[
quoted from my guest post
]
Here to wish dear Anne a lovely day is her beloved Captain Wentworth:
"I must learn to brook being happier than I deserve." - Captain Wentworth, Persuasion
How would you wish Miss Anne a Happy Birthday?
Where does Persuasion rank in your favorite Jane Austen novels?
Very Truly Your's,