So it's just two days before Christmas and I'm just taking a break from the baking, shopping and gift wrapping to enjoy some literary fun. The last few days I've been watching documentaries and biographies of English writers. I'm not sure I've really spent much time looking into the lives of the writers behind some of my favorite books (except for Jane Austen's life). It's interesting watching as they mix acting, paintings, video footage of England today and clips from film adaptations to tell the life stories of these famous authors.
Here's a bit about each one and where you can find them on YouTube.
The Real Jane Austen
Gillian Kearney as Jane Austen
Narrated by actor and great-grand-niece
Anna Chancellor
this is a lovely look at the short but fairly happy life of
The Authoress
. Lovely scenes of Steventon,
You will recognize: actors
Jack Davenport
and
Lucy Cohu
as Henry and Cassandra Austen and much archive footage of film adaptations. I really enjoy this documentary which you can
watch here
.
In Search of the Brontës
Victoria Hamilton, Alexandra Milman & Elizabeth Hurran as Charlotte, Anne & Emily
I knew a very little history about the Brontë Family so this was very enlightening and really a lovely piece. I enjoyed
Patricia Routledge
(a wonderful actress) narrating it and also how it followed the various family members from their early years till death. A very sad story actually of an extremely talented and brilliant family who had little success while they were alive.
You might recognize: actress
Victoria Hamilton
as strong willed Charlotte Brontë and
Patrick Malahide
as her kind father Reverend Brontë (as a side note these two were in
Victoria & Albert
together as well). I really appreciated how Reverend Brontë's faith is portrayed as a vital part of his life and the upbringing of his children. I highly recommend this documentary which you can
watch here
.
George Eliot: A Scandalous Life
Authoress Mary Ann Evans used the pen name George Eliot.
I'll say right up front that I had read a short
biography
of Ms. Evan's life and knew it was rather a wicked one. But any life that starts as a young woman denying the faith she grew up with and the truths her father preached cannot end well. True she did recieve some recognition in her lifetime but her years were marked by sin, lust, self doubt, and trouble at every turn. Her father and brother, bless their hearts, would not forgive her or condone her behavior while she lived in sin. Her bio is an interesting one and another example of how true life is woven into an author's works.
You may recognize:
Harriet Walker
as Mary Ann Evans also
Barbara Leigh-Hunt
,
David Bamber
and
Janine Duvitski
as a group of gossipers. I enjoy the film adaptations of
Daniel Deronda
,
Middlemarch
and
Mill On The Floss
and that's mostly why I watched this documentary. It's interesting and you can
watch it here
.
The Life of Charles Dickens
Actor Anton Lesser does an excellent job of portraying Charles Dickens.
It's only been in the past few months that I have learned about the life of Charles Dickens a bit. The more I learn about him the less I like him, but the more I watch and read of his work the more I like his books. It's very strange, perhaps because he was such a strange man. I had hoped that England's favorite story teller was a quiet family man, he was a man who loved his children but he was more possessed by his stories than interested in trying to love his wife and raise his children. He was a man of powerful character and passions and of odd habits. Perhaps these things come with the artistic temperament. This is a very long documentary narrated by biographer Peter Ackroyd who takes the viewer on a journey through Dicken's life and to places that were important to him.
You might recognize:
Anton Lesser
as Charles Dickens,
Geoffrey Palmer
as William Makepeace Thackeray,
Miriam Margolyes
as Mrs. Catherine Dickens,
Jack Davenport
as Charley Dickens, and
Natasha Little
as Ellen Ternan. If you're interested you can
watch it here
, it's a long three parts in 18 videos on YouTube.
These reminded me of two other biographies I had enjoyed a while ago both were extras on DVDs I bought.
The Two Loves of Anthony Trollope
Author Anthony Trollope
This came with The Anthony Trollope Collection and was a very interesting look at this postmaster turned author. Coming from humble beginings, Mr. Trollope was a very disciplined man who sat down to write at the same time each day and took inspiration from the people he met and places he visited. His other claim to fame is designing the red pillar letter boxes that can be seen on street corners even today in England. You might recognize: the voice of
Stephan Fry
narrating and
Clive Merrison
as Anthony Trollope (I really only knew his voice from radio and audio books). I couldn't find and YouTube videos of this sadly, because it was a very good biography.
Who The Dickens Is Mrs. Gaskell?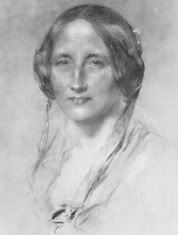 Drawing of Mrs. Elizabeth Gaskell
This was done exclusively as a DVD feature and is on my copy of Wives & Daughters. It is really only a documentary and doesn't have any actor portrayals. It has quite a bit about the filming and the differences between Gaskell and other writers of her day. It does show several places she lived or visited and how her experiences and life figured into her writings. Very interesting.
Well, I'm off to eat Tim Tams with a cup of tea (I've been drinking a lot of tea lately) and watch
Eloise At Christmastime
with my sister and the rest of the family. It is Christmas Eve Eve after all! :)