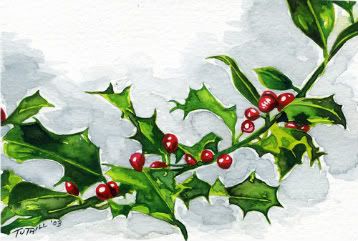 This is a favorite carol of my family. The words and picture they paint clearly of Christ's birth, death and sacrifice for sins are just lovely. Not much is known about this carol which seems to date from Medieval times when holly and ivy were often used as talismans against evil. Later with the Protestant Reformation the words seemed to have been changed and compiled as we know it now by Cecil Sharp in the 1800's. A lovely carol and one I always enjoy hearing.


What are some of your favorite Christmas carols and songs?
Here are the words to the
The Holly And The Ivy
and below is a video featuring the Winchester Cathedral Choir singing the song in 1986. The sound quality of the video is perfectly lovely. Enjoy!
The Holly And The Ivy
The holly and the ivy,
When they are both full grown
Of all the trees that are in the wood
The holly bears the crown
O the rising of the sun
And the running of the deer
The playing of the merry organ
Sweet singing of the choir

The holly bears a blossom
As white as lily flower
And Mary bore sweet Jesus Christ
To be our sweet Saviour
O the rising of the sun
And the running of the deer
The playing of the merry organ
Sweet singing of the choir

The holly bears a berry
As red as any blood
And Mary bore sweet Jesus Christ
To do poor sinners good
O the rising of the sun
And the running of the deer
The playing of the merry organ
Sweet singing of the choir

The holly bears a prickle
As sharp as any thorn;
And Mary bore sweet Jesus Christ
On Christmas Day in the morn.
O the rising of the sun
And the running of the deer
The playing of the merry organ
Sweet singing of the choir

The holly bears a bark
As bitter as any gall;
And Mary bore sweet Jesus Christ
For to redeem us all.
O the rising of the sun
And the running of the deer
The playing of the merry organ
Sweet singing of the choir