This review has been a long time in coming, the last film of
The Anthony Trollope Collection
and my favorite adaptation of the three included in that set.
Mrs. Emily Trevalyan and Colonel Henry Osbourne her godfather.
The main story is that of a young Louis Tevalyan who is suspicious that his wife Emily is carrying on an affair with a much older man. There is a separation of the couple for a time and what is wrong turns horrible with rumors thrown out of all proportions. Doubts turn into bitterness and hate with a young child caught in the middle.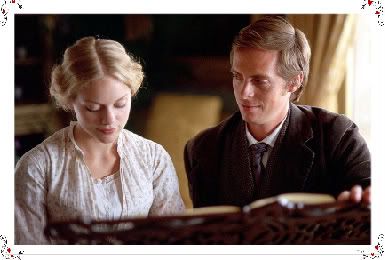 Miss Nora Rowley and her beau Mr. Hugh Stanbury.
Though the main story is sad in many ways it is the three subplots that really make this adaptation stand out and add humor and sweetness to a tale that mostly makes you want to cry. A sweet love story is that of Emily Trevalyan's yonger sister Nora and her affection for poor writer Hugh Stanbury. Hugh, apart from being absolutely charming, also emerges as a real hero through his patience and help to the wronged wife and her sister. Nora's father apposes the match but true love wins the day!
Stanbury family: Mrs. Stanbury, Priscilla, Hugh and Dorothy "Dolly".
Emily and Nora stay for a time with Hugh Stanbury's family who are very hospitable and absolutely charming! His mother is sweet and kind and older his sister Priscilla is practical and opinionated. There are some wonderful moments in their company and the tenderness between Hugh and his sisters is just lovely!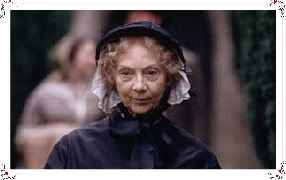 Wonderfully talented Anna Massey is perfect as prudish Aunt Stanbury.
The second subplot concerns Hugh's youngest sister Dorothy "Dolly" who goes to stay with rich Aunt Stanbury who does not approve of his writing career but wishes to do right by the family who are rather poor. Her steps to make a lady out of Dolly include finding a good match for her, the first of which is the comical but money seeking Rev. Gibson. When his true motives are discovered Aunt Stanbury tells him off in a delightfully funny scene! In the end Dolly makes her own choice and her young man is perfectly suited to her sweet intelligent nature.
Comical Rev. Gibson with a rivaling sister on each arm - Arabella and Camilla French.
The third subplot centers around David Tennant's character Rev. Gibson in his search for a wife. After being rejected by Dolly Stanbury he decides to marry one of the French girls who he's flirted with for years. But which one? they are both silly and both trying desperate for a husband. Humor abounds as Rev. Gibson addresses the camera about the trouble he gets himself into.
Mr. Louis Trevalyan, miserable and still doubting his wife.
Adapted by Andrew Davies, this is definitely another wonderful drama from the BBC. The costumes and sets are just exquisite! The acting is very well done with the exception perhaps of Oliver Dimsdale as Louis Trevelyan who mostly has the look of a lost child throughout the film. But no wonder, once he's lost his wife's respect he soon looses his self respect and finds he has nothing left. But
He Knew He Was Right
up until the end.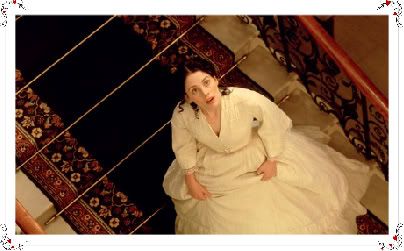 Lovely Emily Trevalyan is certain she was right.
This film could also be called 'She Knew She Was Right' but in truth we see that neither Mr. or Mrs. Trevalyan were right. As a Christian I have my own convictions about marriages and especially a wife's duty to her husband. I believe it is a wife's place to protect her husband's name and not give the appearance of evil. A wife should also obey her husband and be submissive, the exception being if his request goes against God's moral law. Divorce is never acceptable and except in the case of abuse it is always better to stay together and work problems and misunderstandings out - and when you don't know what to do always look to the Lord.
If only Louis and Emily had the Lord at the center of their marriage many heart breaking situations could have been avoided.
Sweet sisters Nora and Emily portrayed by Christina Cole and Laura Fraser.
I'd recommend this film to everyone, it's such a lovely piece of period drama with perfectly painted characters, well told stories, and delightful settings. Just lovely! If an when you do see it I will add this note do persevere through the saddening first episode which sets the story line, the two middle episodes center on the subplot stories and of course episode 4 ties up all the loose ends. A classic and already a great favorite!