Rowing on the river.
I had seen this miniseries only once before and remember only that it had an interesting story and seemed a bit different than some other Dickens.
My friend Elise had mentioned several times that it is one of her favorite films and so I decided to purchase a DVD copy for myself to watch it again. Yes, I certainly did enjoy every moment of it! What a lovely story, full of twists and turns, plenty of humor and sweet stories of love and friendship.
In this review I don't really want to focus on the plot so much but give my appreciation of the main characters and the actors who portrayed them. Also I want to post many pictures because it is a visually stunning film!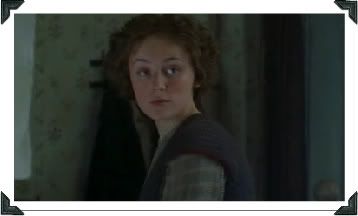 Keeley Hawes as sweet and courageous Lizzie Hexam
I have loved Keeley Hawes in all the other films I'd seen her in (Wives & Daughters, Under the Greenwood Tree, The Moonstone) so I looked forward to seeing her here and was certainly not disappointed. She plays a character who knows her own mind and is continually trying to make life better for herself and her brother despite her humble beginnings. A courageous young lady and one who quickly wins the heart of all who know her.
Paul McGann as
Mr. Eugene Wrayburn
I must confess on my first viewing of this miniseries I distrusted Mr. Wrayburn though I'm not sure why. And even when I got to the end I had no idea why he alone was worthy of Lizzie's hand. Perhaps it was my dislike of men with facial hair that first put me off but on a second viewing shows a young man intent on helping and improving the young Lizzie. Even his choosing Lizzie rather than a rich lady shows he is becoming worthy of her.
David Morrissey as Bradley Headstone
Because I had only seen actor David Morrissey in Sense & Sensibility I immediately sympathized more with his character rather than Mr. Wrayburn. But as the story progresses we see a young man who becomes consumed by desire and very confused indeed. But I still feel sorry for him and he seems to do what is best in the end.
Pam Ferris and Peter Vaughan as Mr. & Mrs. Boffin
This lovely couple brings humor and a truly unchanging love to the story. They are so charming and are always acting with great respect and honor. Money seems to bring a great change in them with a wonderful twist but they are still the truest friends in the world.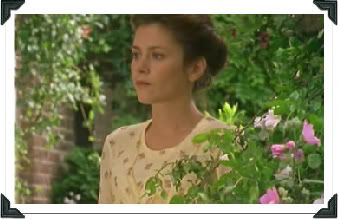 Anna Friel as beautiful Bella Wilfer
A girl of wild ideals and a love of wealth and power she begins but thankfully what a different character she ends. She becomes as beautiful inside as she is outside. Bella's character wears the most lovely dresses and her hairstyles are elaborate and simply exquisite! It's no wonder John Rokesmith falls in love with her. Strength and beauty becomes her charms.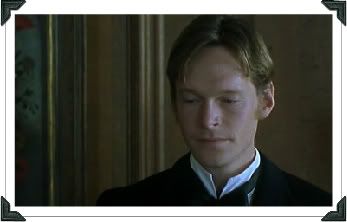 Steven Mackintosh as mysterious John Rokesmith
His is a character to which I am always sympathetic even though it's not clear why at the beginning of the film. Besides being increasingly handsome he also become the true hero of the story. Next to Bella he is probably my favorite character of the film and is definitely added to my list of favorite literary heroes. Honorable, kind, generous, quiet, true gentleman and completely charming.
Mr. Eugene Wrayburn and Miss Lizzie Hexam
The other supporting characters are perfectly cast and others are so evil, mysterious and strange. A wonderful tale, Dickens has outdone himself again! And Sandy Welch had adapted another wonderful period drama!
Miss Bella Wilfer and Mr. John Rokesmith
Highly recommended to everyone who loves Dickens and Austen and period dramas. Just a wonderful miniseries that you hope will never end!