Here's the first one: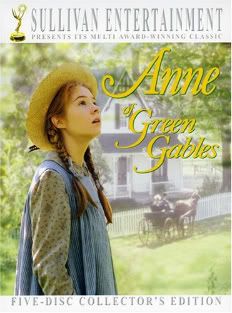 Starring: Megan Follows, Colleen Dewhurst, Richard Fransworth, Jonathan Crombie
Synopsis:
At the turn of the century on Prince Edward Island, Matthew Cuthbert and his sister Marilla decide to take on an orphan boy as help for their farm. But they get an unexpected jolt when they're mistakenly sent a girl instead: Anne Shirley. Anne's a dreamer with an unusual point of view, far removed from Marilla's pragmatic ways, and it's only on trial that Marilla agrees to keep Anne...if Anne can keep out of trouble. As Anne falls into a series of scrapes, makes a bosom friend, finds several kindred spirits, Matthew and Marilla discover that their lives have become a great deal richer, now that Anne is at Green Gables.
Historical Era: Edwardian Canada, L.M. Montgomery
Film Review:
Melody at
Regency Delight ~Jane Austen, etc.~
had very kindly posted a review of the series especially for the tournament. Do please check out her marvelous review which includes photos, quotes, music and trailers!
Don't forget to check out another sneak peek at Elegance of Fashion!
Be on the lookout for four more sneak peeks coming soon!
Very Truly Your's,