The new TV adaptation of Great Expectations (2011) aired on the BBC in three consecutive days just after Christmas. There was a lot of hype about this film and it seems to have been received with mixed feelings and has even become a bit of controversy.
A British YouTube user posted the miniseries on their channel and this is how I've been able to watch it and review it so quickly. I know several of my readers are looking forward to this adaptation so
my hope is that this review will give you some idea whether you want to see it when it airs on PBS in April.
Not having read the book (but I hope to later this year) I have little to compare it with. I have watched and reviewed two other adaptations,
Great Expectations (1981)
and
Great Expectations (1999)
, which will be referenced in this film review.
Oscar Kennedy as Young Pip & Ray Winstone as Abel Magwitch
Plot:
When the story begins Philip Pirrip "Pip" is an orphan being raised by his cantankerous sister and her mild-tempered blacksmith husband Joe Gargery. Visiting his parent's graves one dreary day Pip is jumped by escaped convict Abel Magwitch who instructs Pip, on pain of death, to bring him a file to loose his shackles. Afraid for his life Pip steals a file from Joe's forge and out of the kindness of his heart steals a piece of mutton pie for the starving convict. Touch by Pip's kindness Magwitch later covers for Pip and tells the authorities he took the file and pie. Shortly after this incident Pip is invited to visit rich Miss Havisham of Satis House to "play" with her young adopted daughter Estella. It later proves that Miss Havisham was deserted by her fiance on her wedding day and has been teaching Estella how to get back at men and Pip has just been an experiment for their cruelty. Pip has grown more genteel during his visits to Satis House and is quite disappointed when Miss Havisham pays for him to be apprenticed to Joe, thus confining him to the hard life of a blacksmith.
About ten years later Pip is called to Satis house again and falls for the beautiful grownup Estella at first sight. Soon after the lawyer Mr. Jaggers delivers the news that an unknown benefactor has provided for Pip to be made a "gentleman of great expectations" with the proviso that he live in London and not make inquiries into who his benefactor's identity. But Pip is convinced that Miss Havisham has provided for him to become a gentleman and means for him to marry Estella. Pip goes to London where he is trained as a gentleman and squanders his generous monthly allowance on trying to look like the rich people he meets. In London Pip sees quite a bit of Estella and falls in love with her and she begins to soften a bit but the attentions of rich scoundrel Mr. Bentley Drummle make Pip anxious. As Estella's mysterious past begins to unravel Pip's unknown benefactor also comes to light but the truth may put the two young people in danger.
Gillian Anderson as Miss Havisham
Script:
This adaptation is very fleshed out and I'm not sure exactly how much of Charles Dickens' original dialog is present. On the other hand this adaptation helped me to understand the story better than I ever have before. It catches the spirit and truth of the story and brings out the interest of the story. There were some scenes left out which I had come to expect from watching other adaptations, in particular the tar water in the brandy scene and the "aged parent" scene were missing. Also a few characters, such as Pip's friend Betsey, were missing. But there were other funny scenes that brought much interest to this version (such as scenes in Mr. Jagger's office and Herbert Pocket teaching Pip to dance, both in episode two).
Pip's home and the

forg

e
Scenes:
Every scene is filled with great interest and beautiful cinematography.
There's the bleak, muddy, rugged bareness of Pip's childhood home; the creepy, decaying grandness of Satis House; and the elegant drawing rooms of London. Wonderful details and props fill each scene with interesting things to look at. I was particularly interested in Pip's London lodgings because inside and out they reminded me of the Mashalsea Prison from Little Dorrit (2009). Some of the beginning scenes are dark and bleak but the scenes get much brighter and richer as the film progresses.
Costumes:
The textures and colors of each character's clothing matches their personality and situation in life. Since the story spans some 8-12 years the styles, especially of the ladies' dresses, seem to be in keeping with the passing years. Miss Havisham's empire-waist wedding gown shows that she was a bride of the Regency era but gowns worn by Estella, and other ladies, show the waistlines have dropped slightly. Many of Estella's gowns were lovely but a few of them showed bare shoulders and seemed almost ready to fall off (but were not low cut). Pip's new fashionable clothes are very elegant and in rich tones. His clothing is used to show how much he changes as it progressively gets fancier and more expensive looking. He also on occasion wears almost identical jackets (photos above) as Mr. Bentley Drummle, showing that Pip is trying to emulate him.
Music:
The original music in
Great Expectations (2011)
was composed by
Martin Phipps
whose other work you might have heard in North & South (2006), Ruby in the Smoke (2006), Persuasion (2007), Oliver Twist (2007) or Sense and Sensibility (2008). The music throughout is very touching and speaks beautifully of the hope, expectations, despair and joy in the story itself. Estella plays a couple pretty pieces on the piano and there are a few lovely Waltzes danced. The theme songs are quite catchy and have been running through my head lately.
Great Expectations 2011 Themes
This music video made by me contains the Opening titles music, end theme from episode one and beginning theme from episode two. The photos during the first half were not mine, the other screencaps I made from episode one and two. I would have added more photos and music but the film has recently been taken down from the YouTube channel.
Now for Actors, Quotes, Thoughts and Recommendations!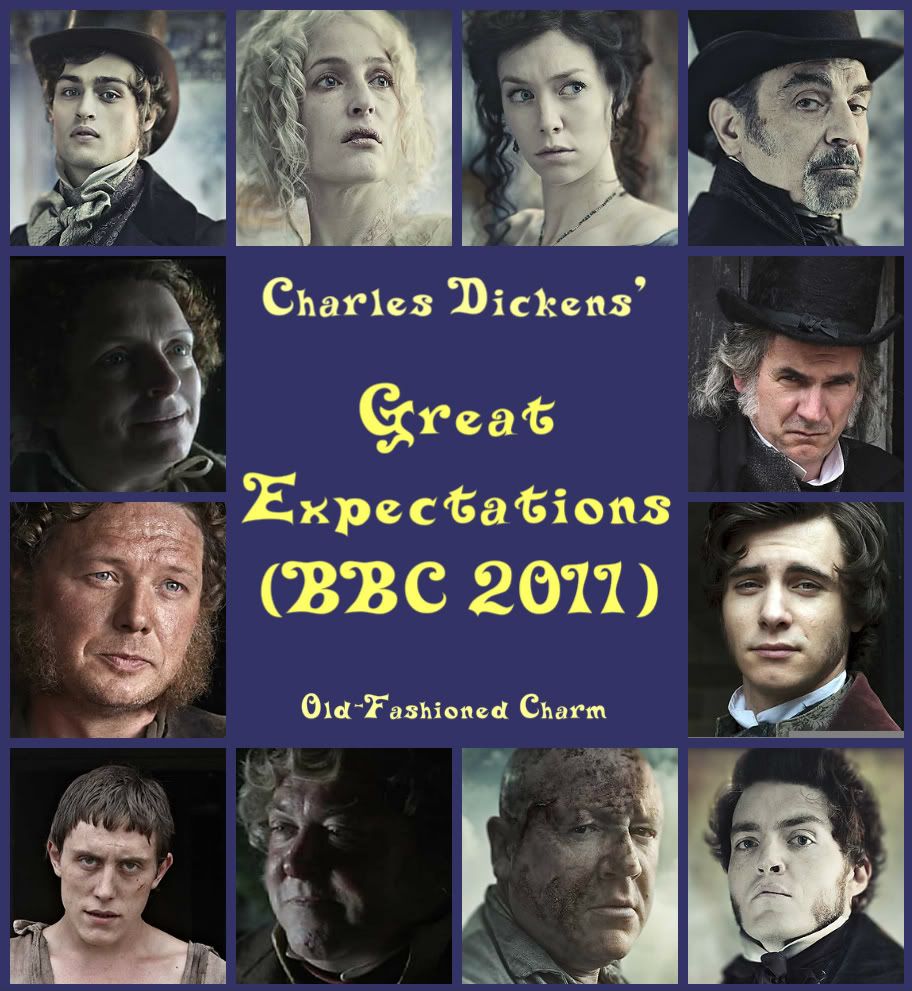 Actors In Their Roles:
The amazing cast of talented actors is what really drew me to this adaptation and I was by no means disappointed! Let me mention a few of them.
Harry Lloyd as Herbert Pocket
Quotes:
"If you can't beat a boy at Christmas, when can you beat him?" - Mr. Pumblechook
"Imagine what a world is out there for someone different and extraordinary." - Miss Havisham
"It is the ghost of a wedding cake and I am the ghost of a bride. Time stands still and yet everything turns to dust." - Miss Havisham
"I do not want to know the truth, the law does not require it." - Mr. Jaggers
"Everyone is meant to love me. But I don't love back. I do not have a heart." - Estella Havisham
"We will see this through together but see it through, we must." - Herbert Pocket
Miss Havisham: What is beauty?
Estella: A destroyer.
Miss Havisham: What is happiness?
Estella: A deception.
Miss Havisham: What is love?
Estella: Death.
-Episode 1
David Suchet as Mr. Jaggers
My Thoughts:
The bad -
Even though this adaptation was shown in three parts I found that it moved rather quickly. It seems to have cut out a lot of the original novel and focused more on the overall theme of the story. There also seems to be essential characters and subplots that were left out. Very little time is spent getting to know some of the characters like Jaggers' clerk Wemmick or Herbert Pocket and his fiancee Clara. I suspect there are also a few scenes that have been added (especially between Estella and Pip) that would not be found in Mr. Dickens' original work. Also there's a lack of Dickensian sounding dialog in this film, there's more of a modern/updated feel to the words coming from the character's mouths.
The good -
As I've said earlier I had a hard time really understanding the characters and storyline in other adaptations, but this adaptation brings the essential plot points to light and fleshes out the characters a bit more. Many of the characters are more likable as well, particularly the hero Pip and his love interest Estella which seems to me a very important point. Also this film seems to have more twists and turns and (dare I say it) more of a point or goal that it was working towards instead of just rambling along as other adaptations seem to do. Also this adaptation has a fairly happy ending which sees Pip & Estella free to marry, this ending is the one preferred by most except for Charles Dickens whose first ending was less idyllic.
So even though this adaptation may not be completely accurate I still liked it and it has inspired me to read the book.
Vanessa Kirby as Estella & Douglas Booth as Pip
Recommendations:
As in most Dickens adaptations there are some mild thematic elements such as fighting, death, poverty and some cruelty so I don't suggest this film for younger children. Also there is one short scene in episode two where the villain Bentley Drummle takes Pip to his "other club" where a group of painted ladies parade in and Drummle encourages him to "take what he likes". The point of the scene is that Pip has been trying to emulate Drummle but discovers very quickly that he has chosen the very worst role model. The ladies are completely covered and Pip gets out as soon as Drummle gets done teasing him but the scene is also fairly easy to skip over. If memory serves there is also a derogatory word used for a woman in the last episode but I can't quite recall. Pip and Estella also kiss briefly. In the last episode there is a chase scene and two men fight with one of them dying. It's similar in this way to Little Dorrit (2009) and Bleak House (2005) but perhaps a bit rougher. Charles Dickens fans will not want to miss this beautifully filmed adaptation.
Links:
BBC's official Great Expectations page
(clips not available in USA)
Masterpiece Theatre's Great Expectations page
(will add offical when available)
My post with photos and the trailer
Wikipedia page
(breaks down each episode)
Great Expectations (2011)
will be aired in two parts, April 1st & 8th, on
Masterpiece Theatre
. I don't have information yet as to whether any scenes from the original will be cut out.
Was this review helpful?
Are you looking forward to seeing this film when it comes to Masterpiece Theatre?
If you've read the book how does this adaptation seem to compare?
Feel free to ask questions about details of the film!