That's right, this month marks the 4th Birthday of my posting here at Old-Fashioned Charm! My first post was on September 4, 2008 so I've missed the actual date by a few days but I knew I had to do something to celebrate.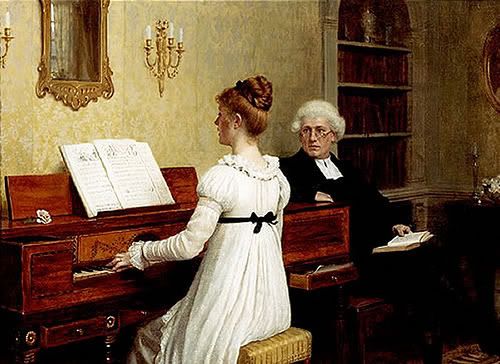 First painting I posted.
"I love old fashioned things - song, houses, books, poems, clothing, furniture, stories, movies, towns, architecture. Even things that seem old-fashioned like absolute truth, morals, virtues, patriotism and the Bible. I'm so excited to have this blog now where I can express my old-fashioned side. I'm dedicating this blog to everything old-fashioned!"
I was browsing through the analytics for my blog and was quite surprised by the figures I saw! When I began I never would I have guessed the growth
Statistics:
382 Followers (and counting!)
671 Posts published (my new goal is 1000 posts!)
83 Film Reviews published
7 Book Reviews published
46 Games published
42 Follow OFC by e-mail
About 20 different Blog Headers and Themes
Most Popular Pages:
Most Popular Posts:
OFC's Associated Pages:
Most Importantly:
Tons of Period Dramas watched.
Lots of life lessons learned, writing practice gained and learning about history.
Amazingly funny moments of extreme hilarity!
So many encouraging and challenging comments left here. Thank you!
Countless sweet blogging friends made!
A group of priceless close friends that I know personally now and e-mail frequently. Love you girls!
My Deepest Thanks:
So many people have encouraged me and helped along this journey of blogging.
My family - Dad & Mom, you taught me how to read and inspired this love of Jane Austen and classic literature. You challenge me always do my best and encorage me to always be learning new things. To my brother who, like dad, often helps with technical questions and fixes my electronics when they quit working. To my sweet sister Bea, you have helped me with almost every aspect of my blog from ideas for games, judging contests, watching period dramas with me, fangirling over actors and characters to high-jacking my blog to post a wonderful birthday post for me. I love you all so much!
Elise from Ribbons of Light & Miss Jen of Blessed Femina - You were two of my very first followers, left lovely comments that encouraged me just knowing there was ladies out there who enjoyed the same old-fashioned things I do and your blogs have directed many people my way.
Melody of Regency Delight - It was such fun finding your blog and it's been incredible getting to know you personally and e-mailing back and forth over the last couple years. You are such an inspiration, so helpful when I need advice or prayer, the sweetest Nonsensical girl and an all-around wonderful friend m'dear Marianne!
Miss Elizabeth Bennet from Elegance of Fashion - It's been lovely participating in your period drama events, co-hosting and collaborating on projects, but especially e-mailing and getting to know you better recently. My statistics also say that your blog has brought in many followers so thanks for linking to me!
Mel of But when a young lady is to be a heroine - It's been such fun getting to know you through your blog and now e-mailing more and finding we're such kindred spirits, thank you for your period drama suggestions and your sweetness!
Miss Amy Dashwood of Yet Another Period Drama Blog - Your blogs and e-mails are such fun and you've been such a help and inspiration to me, thank you Mouse!
Charity of Austenitis - Your blog is such fun, I've enjoyed many of your book suggestions and thanks so much for inviting me to guest post and guest posting for me on occasion.
Miss Woodhouse, Anne-girl, Abby, Hayden, Jemimah C, Maria Elisabeth, Peyton, Alexandra, Ella, Bekah and Little Lady - you young ladies are such an encouragement and inspiration to me! through your scribblings and interesting posts you have encouraged me to keep writing when I don't feel like it, find joy in serving the Lord and you give places to have fun discussing fandoms!
And I know there's so many people I'm forgetting to thank, all of you who comment and follow are such an encouragement to me to keep blogging and sharing these period drama and faith related posts that are truly bits of me. Thank you!
So here's to lots more posting ahead!
My goal now is to make it to 1000 posts. Phew! I better get writing!
I'm thinking about changing up my blog design and have put a poll on the sidebar to help me decide what theme to go with next. Please vote!
How long have you been following Old-Fashioned Charm?
Do you find the posts here helpful and/or encouraging?
What types of posts are your favorite?

(i.e. film reviews, games, actors, historical figures, painters)