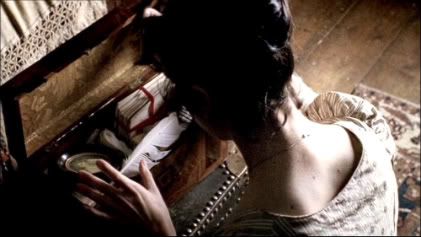 "No one had ever come within the Kellynch circle, who could bear a comparison with Frederick Wentworth, as he stood in her memory." - Persuasion
And what a great Captain Wentworth actor Rupert Penry-Jones was in the ITV adaptation of Persuasion. I didn't really like this adaptation very much and perhaps I was so critical because Persuasion is my second favorite Austen novel and I love the BBC Ciaran Hinds/Amanda Root adaptation. The story was cut short and the story line was changed which was quite dissapointing. Casting was a bit off at times as well, Sally Hawkins as Anne was alright but she's so very plain at times. Rupert Penry-Jones was well cast, perhaps not quite rugged enough, but the script was cut so it didn't show Captain Wentworth's genius or wit as well as it could have.
I also enjoyed Tobias Menzie's preformance as Mr. Elliot, he was very charming and really had Anne fooled it seemed. The other characters were alright but not the best. I did like Henrietta and Louisa in this one but other characters were just passe.
There was some beautiful scenery in this film and it was fun but still a bit dissapointing.
Mood:

Tired