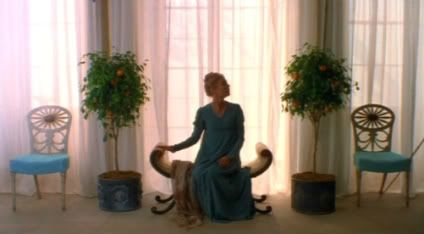 "Ah! there is nothing like staying at home, for real comfort. Nobody can be more devoted to home than I am." - Mrs. Elton, Jane Austen's Emma
I know in my last post I mentioned that I'd give my opinion of this adaptation of Emma but now it come to the point I've decided to wait at least one more post.
I've been thinking how very much I love my home. I'm an unconventional girl, I was home schooled from kindergarten up and graduated just three years ago. I wasn't able financially to go to college or Bible school right away. At the time I saw it as a blessing because my family had just been through a long time of unemployment and financial difficulties which caused us to be on the road quite a bit. I was glad that we were finally settled, dad had a good steady job and that we could all be together. The Lord blessed with my first full time job where I cared for a christian friend's mother who had dementia. My second job was similar and during the summers I worked at Christian camps. The work I am now doing is a more secular environment where I care for Alzheimer's residents. I praise the Lord through all of this that I am still able to live at home and am blessed by godly parents and siblings who love me and that we enjoy such close relationships. Because of my busy work schedule I've been realizing lately how good it is to just relax and talk with my family. Home is such a lovely place for me, I hope it is for you as well.
I recently ran across this poem entitled 'Song' by Henry Wadsworth Longfellow:
Stay, stay at home, my heart, and rest;
Home-keeping hearts are happiest,
For those that wander they know not where
Are full of trouble and full of care;
To stay at home is best.
Weary and homesick and distressed,
They wander east, they wander west,
And are baffled and beaten and blown about
By the winds of the wilderness of doubt;
To stay at home is best.
Then stay at home, my heart, and rest;
The bird is safest in its nest;
O'er all that flutter their wings and fly
A hawk is hovering in the sky;
To stay at home is best.
A special thank you to The Edtrix from
Ribbons of Light
for the award! :)
Mood:



Grateful