My dears readers, the time has come to introduce you to a project I've been working on over the last few months.
Austen Efforts
The Jane Austen Adaptation Pages
Austen Efforts is dedicated to information on all of the film and TV adaptations of Jane Austen's novels as well as film spin offs and documentaries of her life.
There you will find individual pages with info about each film/TV movie including: summaries, cast and crew lists, trailers, quotes, links of interest, photo galleries for each film and my opinion of each adaptation. You will also find pages listing the best adaptations, actors who have been in more than one Jane Austen related film and a page of my Jane Austen fan art.
This is a work in progress so I will continue to add to it. Eventually there will be a detailed review of each film and lists of all the dances preformed and songs sung in the various films.
My hope is that Austen Efforts can collect the best information available about Jane Austen related films and television movies. And that it will be a great resource to all Jane Austen fans!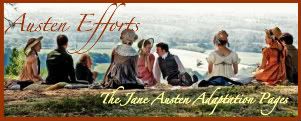 If you love Jane Austen, you can help by:
-Checking out Austen Efforts.
-Sharing about Austen Efforts on your blogs.
-Putting an Austen Efforts button up on your blog or website.
-Subscribing to Austen Efforts.
-E-mail me or comment with suggestions of information to include.
Visit http://austenefforts.blogspot.com!